Play Production is a class that allows students to follow their passion in theatre and helps improve their skills; although the class is only for sophomores, juniors, and seniors. However, any student who is interested in acting, can join the club to improve their acting skills. 
Green Room Club is ran by English teacher, Leanne DeRosa. DeRosa started supervising the club this year, explaining that the club is a way for students "to get involved with Play Production." The club is also ran by junior Ayman Boudrari, and senior Moez Ben Salem.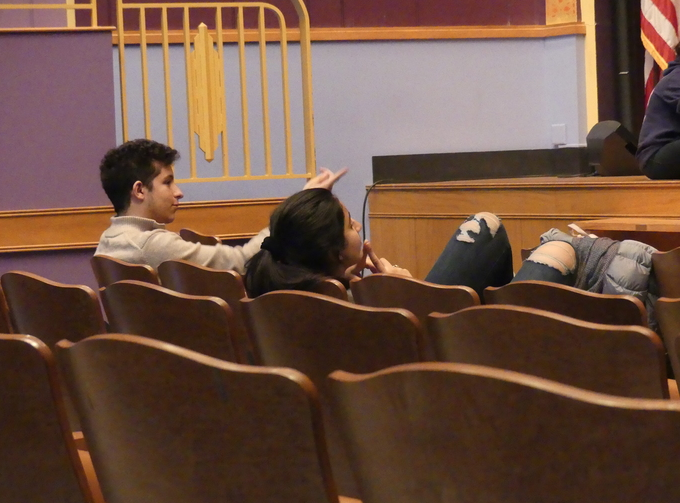 During Green Room, they warm-up their voices and bodies. The club is very helpful for many students who are interested in pursuing acting. DeRosa's advice is for students to join, regardless of whether or not they are serious about acting. "You do not even have to act if you do not want to. You can do something as simple as set building. It is just a great way to meet people." 
Boudari has been in Green Room since his freshman year. Boudari's main goal is to keep Green Room "alive" because he notices that around October, the club dies down. 
The Green Room incorporates a great amount of improv. The leaders of the club also give certain situations and rules that students must use to create a scene. They give sentences phrases, or an idea that turns into a scene afterwards. They also have a game called Bench, where there is a chair in the middle and they bring two actors in and create a setting, then one person leaves and brings another person, and it continues. 
Boudari said to "go in with an open mind and if you feel like something is awkward or stupid, you are doing it right!" Everything in Green Room is "exaggerated" and "over the top" he explained. He also added that "if it seems like a little too much, that is perfect because you want it to be a little too much."
Although Green Room focuses on acting, it provides so much more; from creating set, to acting, anyone can join to pursue their interests that they may not be able to follow during school.