As we all know, all around the world women come here from different cultures and different countries. On March 8th there was an International Women's Day event at the senior center on 7 Washington Street, that focused on generation equality and recognizing colored women through any form of art, poetry or music. The American Association for Arab Women is a non-profit organization dedicated to improving the lives of Arab women in Massachusetts. This association wants to bring women together who are immigrants to discuss and solve problems they may be facing. They provide Classes for them to learn English, Mentor them on social skills which involves interaction with other cultures as well. AAAW wants to empower women to become community leaders in their society and help them adjust their new life in America. Souad Akib is the founder of Triple AAW and works to "build bridges" between cultures, American culture, and Arab culture. She wants to show that women are the core of the family. She works to make sure women can be recognized for their talents just like men are. For this event, they collaborated with the Chinese culture association and the  North Shore Hispanic Association to bring Women's art to life once again. The Chinese cultural connection celebrates diversity in schools and many other places. Souad was "so happy" to see such a big crowd attend.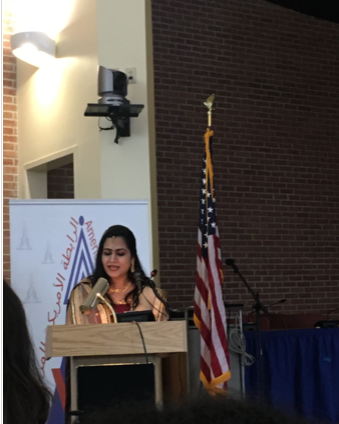 Sabrina Monteiro, a member of the YWCA and the Blue and Gold Managing Web and Mobile Apps, starts off by introducing what Namaste Malden is and describes it as following a motto that celebrates culture together. NMIC (Namaste Malden Indian Community) is a community starting to make an appearance to more people that gives opportunities to artists, musicians, and performers to share Indian cultural heritage with many different places. They work to help communities come closer and share similar feelings about unity and diversity. The Co-founders of NMIC are Ani Vyas, Shikha Vyas, and Vivek Sonar. Pallavi, Saurabh, Karishma, Harsh, Krupa, Aditya are also involved members, along with them. Vyas earned a certificate of ECE with deans list and merit from BHCC, USA. She also works as a board member at MATV (Malden Medias Center) doing Networking courses. They work to help people express themselves through any form of art. The members were not born here making them feel part of a new and broader community. Namaste Malden troupe also led by Vyas is a part of NMIC that has dancers, actors, musicians and go to different communities to perform and entertain.
Afterward, Vyas performed on the Dance Pe Chance song. Her dance performance was quite impressive and she is extremely talented.
As mentioned previously, the Chinese Cultural Connection collaborated with Triple AAW. Not only did they show up for support but they had a surprise performance as well. The CCC is a non-profit organization that was founded in Reading in 1985 then moved to Malden in 1999. They help reinforce the growing Asian Immigrant population. This organization celebrates diversity throughout the Boston area. Their mission is to build up the diverse communities and offer interactive educational programs and arts. This takes place in schools, libraries, museums, and community centers all over New England. Haocun Yu, as a part of this association put together a performance playing the guqin, a seven-string Chinese musical instrument that is very "unique". Her first song was "Phoenix seeking for love" and her second song was "Drunken Mania" followed by her last song "Lament of Long Hall Palace." Haocun Yu promotes to "change culture everywhere [she] goes." She is a physical doctoral candidate from MIT. She began playing the qin in 2016. She tries her best to understand the physical world and desires to establish peace for all future generations. 
Ose Schwab, who helped work with Souad on the transitions of this program was present at the event and showed support for the great work that was done. Her job is to help the woman from the YWCA with what they are going to say and help to find performers. She is a "big fan" of the Arab women association. She helped with the planning of this event. Last year, she gave the idea to Souad to throw a cultural celebration and she followed through with it.  Schwab gave her the "seed" to run with. She wants to thank everyone for putting together such a "great event".
Triple AAW had invited three performers to come to entertain the crowd, all of which are involved in Arabic culture. The first performer was Salwa Gardaf, a fashion designer from Ksar El Kebir, Morocco. She enjoys dressing up dolls in traditional clothing from different Morrocan regions and a variety of other countries as well. She also works as a writer and a poet. Her first book called "Does Homeland have a price" became very popular and was actually published.  She is a cultural advisor who teachers Arabic and Moroccan culture at MACIR(Morrocan American Connections in Rever) Arabic academy.  At the time, Gardaf was working as a cultural advisor for Guard Up's Guardian Adventures, an educational camp. One of her jobs with doing that is to illustrate and act out Moroccan Mythological Figures. Gardaf is the director of the 4th annual Moroccan Cultural day coming up on Saturday, June 20, 2020.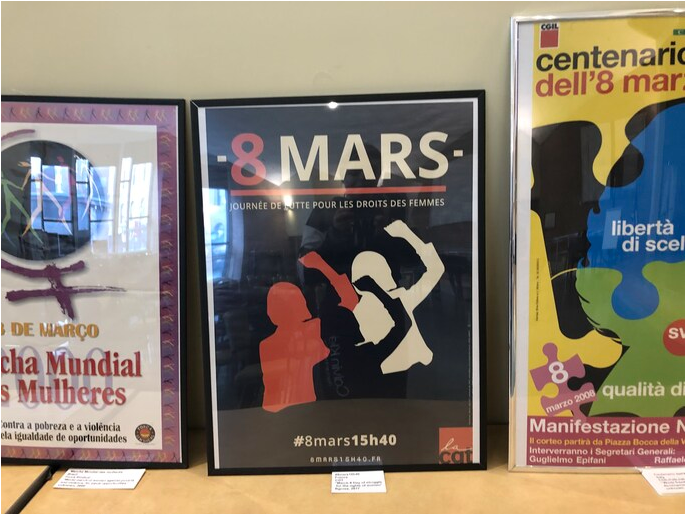 The next performer was Mariam Dhabi, a woman born and raised in Morocco, who is a four year- Ph.D. from Harvard University. Today she came here to share with the crowd two passionate songs that she will be recording next week. The first song is about her aunt who passed away and the second song called "Peace" is dedicated to her mother. Dhabi thinks for anyone who is trying something new "happiness is on the other side of fear" and it is defintely "worth it. " She takes joy in making music and listening to music is a great time to think about interracial trauma. Souad is a friend of hers and Dhabi has always "admired" her work for the community. Akib encouraged her to be a part of this celebration and she was happy to join her. Dhabi "loves her vibe." She thinks this event is important because women are able to join together and relate to their experiences no matter where they are from. Women have something to "unite" on beyond culture. A lot of these women have come from colonized countries and that impacts how people treat each other within that country. She loves having this space to unite through love and learn to be strong together.  
The third performer was Mal Barsamian, who started his music career when he was four years old playing the Dumbeg(hand drum). He became a sought-after oud player and clarinetist, as well as playing a variety of other instruments including the guitar, bouzouki, and saxophone in different communities for the last 40 years. He has appeared with Mehmet Sanlikolś Dunya Organization. After training as a classical guitarist, he earned and worked for his Bachelor's and Master's degree in guitar performance. Barsamian is also on the faculty staff at Tufts University's World of Music, teaching different instruments. He is an applied faculty member at Boston College and leads the Middle Eastern ensemble at New England Conservatory Of Music.
As I have said before, The North Shore Hispanic Association also collaborated with the Triple AAW and they are also a non-profit organization that works to "thrive" the Hispanic community through cultural awareness and getting involved in their community as well as other ones. One of their main goals is to uplift the entire North Shore community by recognizing people's similarities and differences but also celebrating how the Hispanics and other cultures make the community great. Like AAAW, they believe that different cultures and ideas add to the uniqueness of America and make society stronger and more accepting. Following this presentation, a group called Pumawari Tusuy represented by Mystic Valley kids put on a Peruvian Dance named "Valicha del Peru" while dressed in very colorful and bright clothing. It was a very beautiful and expressive dance in my opinion.
Representing the Haitian Community, Nahomie St. Louis came to share some words with the crowd about what she believes being Haitian means. St. Louis believes Haitian Women are "strong, courageous and powerful" considering all the problems they are facing in modern-day society. She is a spoken word artist who speaks poetry that needs to be spoken. The first piece was in honor of her mother who was born and raised in Haiti. It starts off with what she thinks her grandfather would have said to her mother before she left to come to America then continues with what she thinks about her mother. The poem mentions embracing their flag and the slaves that fought and survived. Nahomie wanted to show her mother that her daughter was listening and was very thankful to her. Her next piece was dedicated to women in general. She mentions that we question our woman and are treated sometimes as if we are not human.  This is her testimony and she hoped that it would"[do] something" for us. Equality and love are important to her and women "need" each other. She uses her platform to encourage Haitian Women and fight for them. Haitian Women are a force "not to be reckoned with." A line in her poem that stuck out to me was "Why it is easier to show judgement than love" because it is exactly what society has come to over the years and it is upsetting. I think it is very important for people to recognize their faults and where we as people need to improve with how we treat others. 
To end the evening a long time activist in the labor movement, Stephen Lewis made an appearance at this event in honor of Women. For him it was an "honor" to be there and share his posters for International Women's Day. These posters were contributed by friends, collected at conferences , visits to some organizations and relationships made through the internet. These posters have a lot of meaning behind them and he puts them up to bring awareness to a subject that he and many others care about. He had raised money before this to be able to do . His posters include subjects like war violence, violence against women and many political posters that have importance in the world. 
The volunteers and organizers who made this event possible wanted to say a big thank you for everyone who attended and shared their support. It is greatly appreciated and they want everyone to continue to be an advocate for equal rights and love for everyone. Coming to this event for me personally was a great experience and getting to hear other people's stories and backgrounds was life changing and i very much appreciated being able to attend.