What's one thing that both COVID-19 and Community have in common? According to Donald Glover, they are two things that lasted way longer than people thought, COVID being the one present in this day and age. However, Community is not as dead as people thought it was. Most likely due to the fact that it started streaming on April 1st, right when people were locking themselves up inside, the show recently experienced an extreme resurgence in popularity, trending on platforms like Twitter and Reddit. As a result, writer Dan Harmon and the group (minus Chevy Chase) got back together for a table read and Q&A with Variety, with special guest star Pedro Pascal. The goal was to raise charity for José Andrés' World Central Kitchen and Frontline Foods, both of which are currently helping with COVID relief efforts.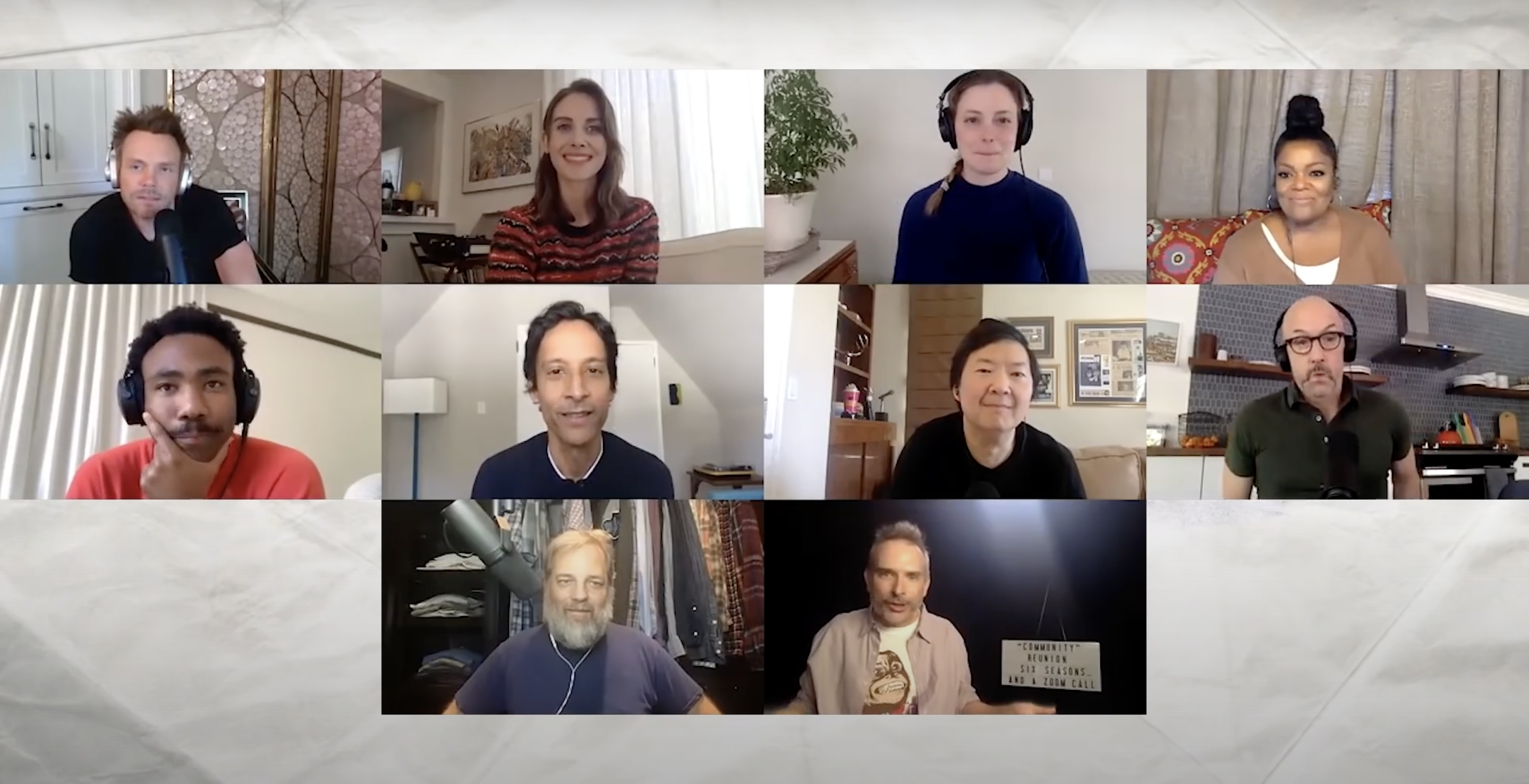 For those who don't know, Community is a show centering around Greendale community college, and 7 (at least until Season 5 when the cast starts to undergo big changes) of it's students. There's Jeff Winger (played by Joel Mchale), Britta Perry (Gillian Jacobs), Abed Nadir (Danny Pudi), Annie Edison (Alison Brie), Troy Barnes (Donald Glover), Shirley Bennet (Yvette Nicole Brown), and Pierce Hawthorne (Chevy Chase). There's also Ken Jeong and Jim Rash who play faculty Ben Chang and Dean Craig Pelton. The show has a ton of meta humor and utilizes a bunch of TV and movie cliches to its advantage. A few notable episodes include a western themed paintball competition, a Christmas musical where the group fills in for the Glee club, a Fincher-esque mystery similar to the likes of Zodiac, and a zombie apocalypse scenario. 
The Table Read centered around the episode Cooperative Polygraphy, which was an extremely good choice given the circumstances, with it being a bottle episode, meaning it wouldn't require any movement between acts. There's also the plus of everyone having an equal amount of screentime, meaning that all the actors could shine in their respective roles. The episode centered around the group taking a polygraph (for reasons which I will not disclose due to spoilers) and it had Walter Goggins on as a guest, running the test. Goggins could not make it, so they had Pedro Pascal fill in for him and Jim Rash fill in as his assistant, which was perfect since Dean Pelton is the only major character without a role in this episode. One of the highlights was Pascal not being able to finish his lines at some point in the read due to them being too funny, which happened several times consecutively. There was also the fact that Keith Slettedhal, from The 88, came on to sing the show's theme song, At Least it Was Here, which was a nice touch.
Afterwards, Variety hosted a Q&A with Harmon and the rest of them. The cast reminisced about their time on the show, talking about how they remember listening to Glover's mixtape and how Jeong was the one who broke character the most, while also trying to get others to break. There's a gag on the show about another (real) show, The Cape, where Jeff tells Abed that it won't last three weeks, to which Abed replies "6 seasons and a movie." While the Cape did end up running for 10 episodes, and not six seasons, the gag ended up bleeding into Community. We got six seasons, so it only feels right that they end it off with a movie. Right now, the demand is quite high; fans have been talking about it on the internet quite a lot recently, and most of the actors said they'd be on board. 
The topic inevitably came up, with everybody agreeing except for Harmon and Glover. It sounded like Glover was trying to say that he needed to read the script first, but Harmon, in what seemed like an attempt to save himself (and anyone else who didn't want to) from answering the question, took off his shirt. It's likely that he did this because Harmon is attached to Rick and Morty for the foreseeable future, with him signing on for 70 more episodes in 2018. 
Hopefully, there will be some solid news on the subject soon. Until then, fans will have to imagine what the film would be. Will it be about Abed searching for Troy after he's stranded in the middle of the ocean with Levar Burton? Will Dean Spreck from City College be the main antagonist? Is Magnitude going to be in it? 
In the end, the read managed to raise over 100,000 dollars for COVID relief, and it gave us a much needed reunion. It was nice seeing the cast together again, and seeing them talk about their time on the show and their characters. For those who haven't seen the show, it's 100% a must watch, especially since it's both on Netflix and Hulu.
The YouTube video of the cast reunion and table read.