The‌ ‌start‌ ‌of‌ ‌another‌ ‌school‌ ‌year‌ ‌always‌ ‌comes‌ ‌and‌ ‌goes.‌ ‌With‌ ‌that‌ ‌comes‌ ‌new‌ ‌students‌ ‌and‌ ‌staff‌
‌
members.‌ ‌This‌ ‌year's‌ ‌group‌ ‌of‌ ‌new‌ ‌teachers‌ ‌includes‌ ‌Robert‌ ‌Grinnell,‌ ‌a‌ ‌first‌ ‌year‌ ‌Spanish‌

 

‌
teacher,‌ ‌who‌ ‌is‌ ‌ready‌ ‌for‌ ‌the‌ ‌job.‌
‌
Grinnell‌ ‌is‌ ‌the‌ ‌middle‌ ‌child‌ ‌of‌ ‌his‌ ‌family‌ ‌and‌ ‌grew‌ ‌up‌ ‌on‌ ‌the‌ ‌North‌ ‌Shore‌ ‌in‌ ‌Massachusetts.‌

 

‌
Grinnell's‌ ‌hobbies‌ ‌include‌ ‌running,‌ ‌hiking,‌ ‌learning‌ ‌new‌ ‌languages,‌ ‌eating‌ ‌good‌ ‌food‌ ‌and‌ ‌being‌
‌around‌ ‌friends‌ ‌and‌ ‌family.‌
‌
‌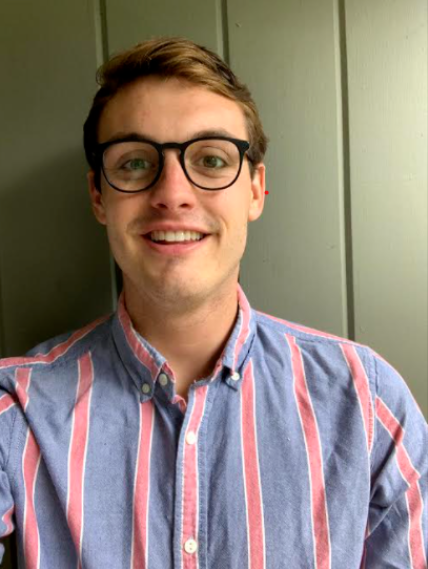 After‌ ‌high‌ ‌school,‌ ‌he‌ ‌attended‌ ‌Gordon‌ ‌College‌ ‌where‌ ‌he‌ ‌received‌ ‌a‌ ‌degree‌ ‌in‌ ‌secondary‌

 

‌
education‌ ‌for‌ ‌Spanish‌ ‌and‌ ‌English‌ ‌as‌ ‌a‌ ‌Second‌ ‌Language.‌ ‌Grinnell‌ ‌believes‌ ‌that‌ ‌"with‌ ‌the‌ ‌help‌ ‌of‌
‌education.‌ ‌.‌ ‌.‌ ‌people‌ become‌ ‌better‌ ‌members‌ ‌of‌ ‌the‌ ‌world."‌ ‌He‌ ‌finished‌ ‌college‌ ‌with‌ ‌student‌
‌teaching‌ ‌at‌ ‌Beverly‌ ‌High‌ ‌School‌ ‌and‌ ‌eventually‌ ‌went‌ ‌to‌ ‌Spain‌ ‌to‌ ‌continue‌ ‌his‌ ‌studies.‌
‌
‌
Grinnell‌ ‌lived‌ ‌in‌ ‌Seville,‌ ‌Spain‌ ‌while‌ ‌attending‌ ‌the‌ ‌University‌ ‌of‌ ‌Seville.‌ ‌A‌ ‌fond‌ ‌memory‌ ‌he‌

 

‌
made‌ ‌while‌ ‌in‌ ‌Spain‌ ‌was‌ ‌when‌ ‌he‌ ‌and‌ ‌his‌ ‌friends‌ ‌built‌ ‌a‌ ‌chicken‌ ‌coop‌ ‌that‌ ‌raised‌ ‌five‌ ‌chickens‌
‌and‌ ‌is‌ ‌still‌ ‌there‌ ‌to‌ ‌this‌ ‌day.‌
‌
‌
During‌ ‌his‌ ‌freshman‌ ‌year‌ ‌at‌ ‌the‌ ‌University‌ ‌of‌ ‌Seville,‌ ‌Grinell‌ ‌traveled‌ ‌to‌ ‌Tijuana,‌ ‌Mexico‌ ‌to‌

 

‌
work‌ ‌in‌ ‌an‌ ‌orphanage‌ ‌to‌ ‌help‌ ‌the‌ ‌children‌ ‌there‌ ‌and‌ ‌teach‌ ‌them‌ ‌English.‌ ‌"Despite‌ ‌the‌ ‌kids‌ ‌not‌
‌having‌ ‌a‌ ‌biological‌ ‌bond‌ ‌to‌ ‌each‌ ‌other,‌ ‌[they‌ ‌have]‌ ‌formed‌ ‌a‌ ‌family‌ ‌amongst‌ ‌one‌ ‌another"‌ ‌said‌
‌Grinnell.‌ ‌Normally‌ ‌he‌ ‌would‌ ‌fly‌ ‌out‌ ‌to‌ ‌San‌ ‌Diego‌ ‌to‌ ‌get‌ ‌on‌ ‌a‌ ‌bus‌ ‌or‌ ‌van‌ ‌with‌ ‌a‌ ‌group‌ ‌or‌ ‌by‌
‌himself‌ ‌and‌ ‌travel‌ ‌to‌ ‌Tijuana.‌ ‌Due‌ ‌to‌ ‌COVID-19,‌ ‌this‌ ‌was‌ ‌the‌ ‌first‌ ‌time‌ ‌in‌ ‌five‌ ‌years‌ ‌he‌ ‌was‌ ‌not‌
‌able‌ ‌to‌ ‌go.‌
‌
Previously,‌ ‌Grinnell‌ ‌worked‌ ‌in‌ ‌the‌ ‌ESL‌ ‌program‌ ‌in‌ ‌Lynn‌ ‌and‌ ‌has‌ ‌recently‌ ‌arrived‌ ‌in‌ ‌Malden,‌‌
moving‌ ‌here‌ ‌in‌ ‌September.‌ ‌He‌ ‌hopes‌ ‌that‌ ‌his‌ ‌impact‌ ‌on‌ ‌the‌ ‌school‌ ‌and‌ ‌students‌ ‌here‌ ‌at‌ ‌MHS‌ ‌will‌ ‌let‌ ‌him‌ ‌become‌ ‌"more‌ ‌than‌ ‌a‌ ‌teacher"‌ ‌and‌ ‌build‌ ‌bonds‌ ‌with‌ ‌the‌ ‌students‌ ‌to‌ ‌help‌ ‌them‌ ‌become ‌‌better‌ ‌people.‌‌