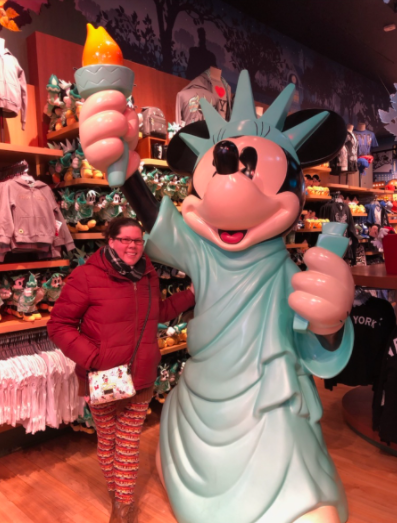 It was about a year ago when in the middle of Stop & Shop, Heather Segal ran up into her former fourth-grade teacher. Not having seen each other in more than 25 years, Segal was amazed that the teacher she looked up to as a younger student had recognized her. After more than two decades had passed, her fourth-grade teacher had long retired, and Segal, herself, now has become an inspiration to her students.
This year is Segal's first year teaching older students at high school. Prior to coming to Malden High and working with students from the PACE program, Segal had been working with preschool kids in the Malden Public Schools for 10 years. 
Even though she was nervous about transitioning to a totally different work environment, her colleague Rebeccah Griffith thinks "[she] is really good at what she does." Working alongside Segal, Griffith sees her as, "very punctual, [...] super friendly" and someone who is "always ready to jump on board whenever someone needs help." Segal mentioned that "though [it is] a completely different environmentーteaching at high schoolー[she] has a lot to learn, but [she] still loves it."
When it comes down to teaching, Segal tries to "be the teacher that the students expect for a teacher." She wants to make the learning experience memorable for kids. She went into education to be an inspiration for her students because that is what her fourth-grade teacher did for her. 
Segal graduated from Malden High in 2003 along with her friend and colleague with whom she is now working, Dana Marie Brown. Even though they are not able to see each other currently, as Segal is working remotely from home, Brown stated that "[she] is excited to work with her, once we all get back to school." 
During their high school years, both of them were in The Blue and Gold, where Segal spent two years writing for the newspaper, and four of her high school years in the Maldonian, where she eventually helped produce the 2003 Yearbook.
Since a young age, Segal does not remember being passionate about anything else but teaching. She had a younger sister that she begged to play "school" with. "Please be my student, please play school with me," were her often requests to her younger sister. Getting a whiteboard and some Expo dry erase markers as a birthday present made her the happiest kid on Earth.
Outside of school, Segal spends time with her twin daughters, who are 12 years old. They enjoy spending time outside and doing outdoor activities such as camping and girl scouts (though it is postponed due to COVID-19). Segal very much believes that if she was not a teacher, she would have wanted to become a Broadway performer. She explained that "in [a] past life, [she] was probably a theater nerd." Her most favorite Broadway musical show is "Dear Evan Hansen," which "[she] believes that every student should watch."
As it is Segal's first year teaching at Malden High and starting the education process remotely, "the first couple of weeks were quite challenging." But now that we are many months into the year, she has really established her routines. "[She] is actually enjoying it because [she] feels much more individually connected to each student," said Segal. Finding individual time with each student used to be quite challenging, but as she is teaching remotely, she has more opportunities to give more time and attention to each child. 
She expressed that she is really enjoying her new position at the high school, and believes that "once it's all done, and [we] go back to school, [we] should put academics outside for a while, and focus on building that social connection between each other." 
Being an educator is also about creating social connections with people, and working remotely, it is difficult to make those connections easily. Segal believes that that is what we are losing because of the computers. Having some sort of interaction and socialization is important not only for academic success but also for mental well-being.