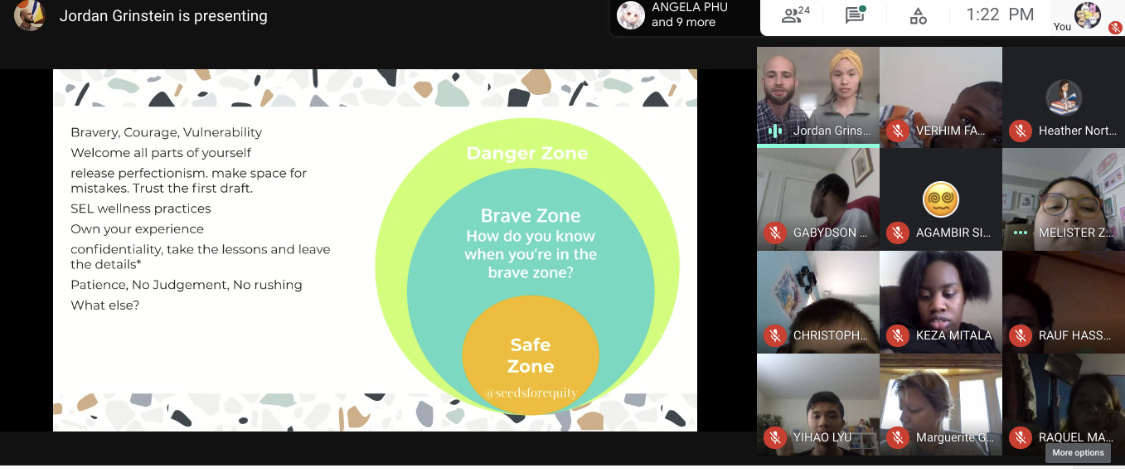 Breathe for Justice is a program provided by the Malden High School for students to join every Wednesday at 1:05 pm. This program is hosted by Jordan Grinstein and Maddie Lam. Breathe for Justice is not only about meditation, it is a space where people can talk about real-life problems happening around the world and things that affect their everyday lives.
During the Breathe for Justice session held on Wednesday, April 28th, around 23 students participated. The students were asked to fill out a Google Form that asked how they handle stress and relieve it and to provide more information if they wanted. Once students filled out the Google Form, the agenda for the day was shared, which included tasks such as writing a journal entry to their future selves, a recap on Social Justice, Social Identities, Intersectionality, Power, and Privilege, meditation and breathing exercises like an embodied practice. 
After the breathing exercises, the students spent five minutes doing a free write where they wrote down things that were in their minds. The point of this practice was to not stop writing during that five minute time period. After students did their freewriting, they learned more about meditation and about Appropriation vs Respecting Culture, they discussed who it is for/the audience, what the purpose is, and about the context. They went over what cultural appropriation is and some examples of it and reviewed how cultural appropriation is relevant in yoga and meditation.
Lam explained that she wanted to start Breathe for Justice because as she transitioned to college life she was navigating the system and could not find the "resources to help her internally and emotionally" and she thought about ways she could "give back to her community." 
Grinstein expressed that "the best part about doing this program is [having the] opportunities to [have] a deep connection with Malden High students and teachers." Lam also added on "the micro-moments when somebody says 'wow that practice was really helpful for me.' Those are really beautiful moments." Lam was once a Malden High School student, after graduation, she went to a predominately white institute and was shocked by the significant difference.  
To learn more about Breath for Justice visit their Instagram page, click here.