During the month of April, the business department at Malden High hosted the Financial Fair Challenge. From April 12th to 30th, juniors and seniors had the opportunity to participate in a virtual version of the challenge where students were to complete various budgeting activities that would help to raise financial awareness.
Tim Lane, a business teacher at MHS, was one of the organizers of the challenge. Lane explained that he met with Natalia Brennan, who is the Director of Technology at Malden Public Schools, and decided that they wanted to take up the financial literacy grant that was available by the Department of Education. He continued on saying that they both wanted to "take the opportunity to expose more students," especially seniors who will soon be graduating and to get them thinking about the financial decisions they will need to "make as an adult going out into the world."
Originally, the Financial Fair Challenge would be done in-person where students would have the opportunity to interact with members of the community whether it would be individuals coming from different fields of work to discuss the various categories of expenses. However, due to the pandemic, the challenge was done through a Google slideshow. In the slideshow, students were to create an individual spending plan. More specifically, this included choosing a profession to establish a salary, building a budget coming from 14 different categories such as clothing and housing, and filling out a Google Spreadsheet to track financial decisions.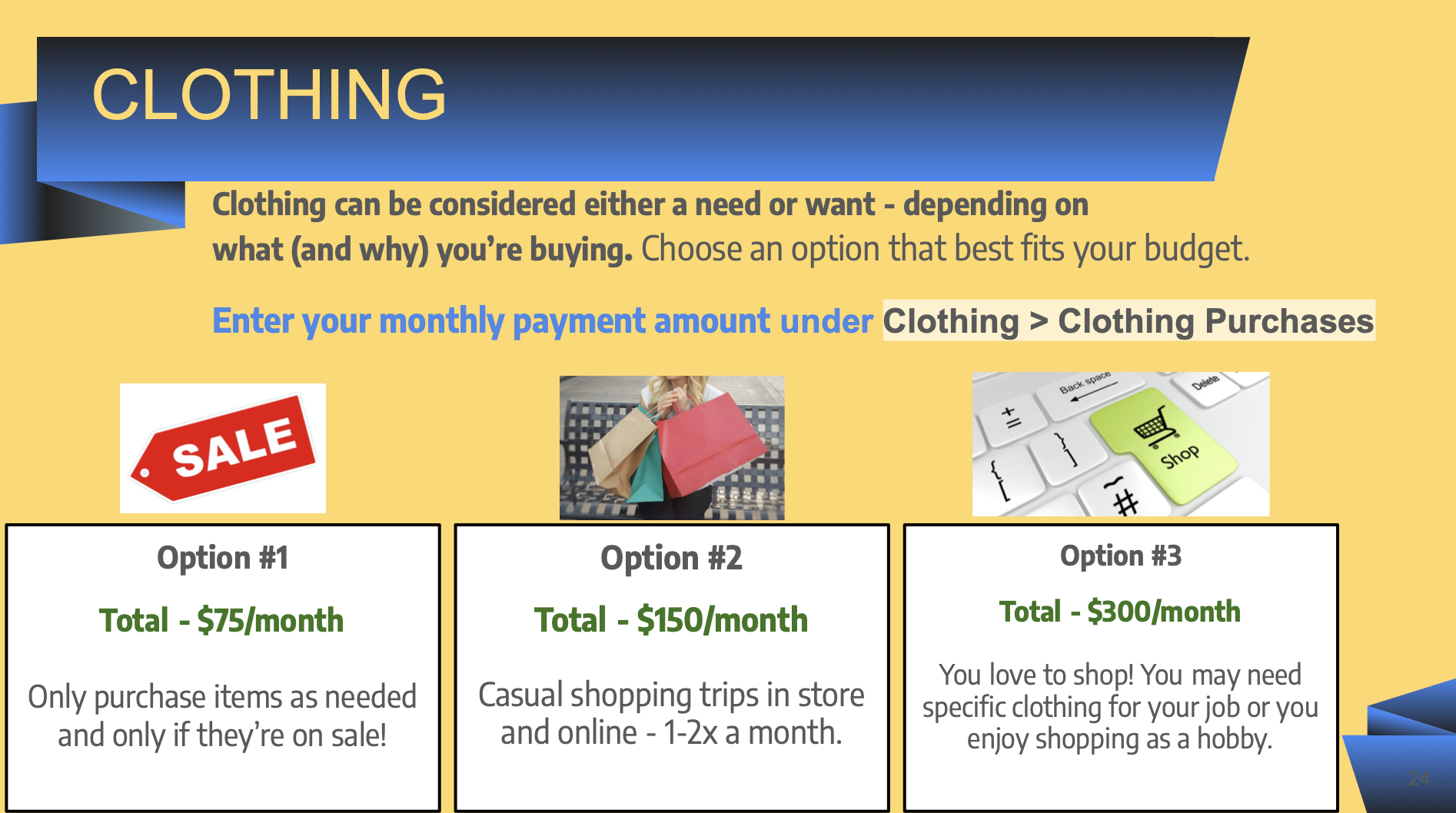 Lane expressed that the end goal of the challenge was to have students be more aware of budgeting and how exactly their income would impact their capacity to "live the kind of lifestyle that [students] want" because he hopes that students who participated in the challenge, will continue to gather financial information together to make decisions that will "benefit them as they go through their life financially."
He mentioned how at the end of the challenge, students were able to complete a survey to express their thoughts about the financial challenge. Lane went into detail about the feedback that they received from students consisted of comments around how they did not recognize that items and living a certain lifestyle can be costly. In addition, the challenge helped them to make decisions that enabled them to still save some of their money. As a result, Lane further hopes that if more students can begin to start looking at their spending and be able to use some of the income that they make when they are young, while also saving and investing, then "it will give them a leg-up on being financially independent."
Adding on to that thought, Brennan believes that "figuring out what is next is such an abstract idea" and that by completing this challenge, it would potentially help to "mimic that kind of thinking you need to do." Although different choices will be made, "at least you are aware" and are not "surprised by the costs in the real world," said Brennan.
Junior Juliana Davidson was one of the students who was able to complete the financial challenge. Davidson explained that she participated in the challenge to gain more financial awareness as "[she] went into the challenge hoping to get a better feel for what to expect as [she] goes into adulthood." One part of the challenge that stood out to Davidson was how students had the chance to "customize [their] desired life." She explained that for her own budgeting plan, Davidson "focused on building a solid retirement and savings account," in the end learning to "make some hypothetical sacrifices" she would need to make. Moreover, she expressed that the financial challenge enabled her to understand that there are "costs associated with life" which are "often overlooked and not as prominent" to a student. Therefore "having this awareness of ticket prices" can potentially help students to be "prepared to make sacrifices and changes to their dream lifestyle."
The Financial Fair Challenge is expected to run in-person next year where students will be able to go through the process of connecting with experts in different fields and further gain more knowledge about finances in order to build a strong set of decision making skills around money management.