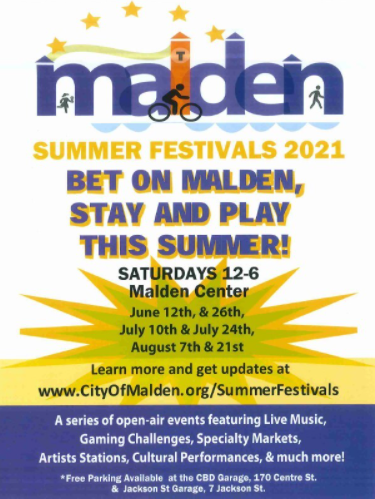 This year for Summer, Malden is planning something special! For the first time in Malden's gaming district, there will be a Summer Festival! There will be live music, luaus, restaurants, and other great events For more information, Strategy and Business Development Officer, Kevin Duffy has answered some FAQs.
Q. Will masks be required at this event? 
The Summer Festivals are open-air events to make it as safe as possible; however, with the Governor's lifting of the restrictions, the use of masks has switched to individual preferences. Both individuals and businesses can choose to wear/require masks if they so choose, but there is no longer a mandate to wear them.
Q. What will the duration of the summer festival be? 
The time of each festival will run from 12 PM-6 PM, although on some days there may be other independent events occurring later into the night. The dates of the Festivals themselves are June 12th & 26th, July 10th & 24th, and August 7th & 21st.
Q. What are some things I can look forward to at this event? 
Besides the Gaming Challenges, Live Music, cultural performances, and artist's tables that will be at all the festivals, there will be special events as well. July 24th is dedicated to the 130th anniversary of the Malden Chamber of Commerce so there will be period garb and era-appropriate games and music. Also, there will be Hawaiian Luaus, an Antique Car show, a Trunk Show, Cosplay Contests, and other special events that will surprise everyone My recommendation is to follow

www.CityOfMalden.org/SummerFestivals

for updates as we unveil the activities for each upcoming festival.
Q. What live bands will be at the festival?  
All the bands will be local bands provided by Sum

Studios

in Malden. Sum Studios is a very cool & collaborative environment that embraces the needs of Boston's talented and diverse community of artists. We are so proud that they call Malden home and thankful for their help with the Summer Festivals!
Q. What sort of food will be at this event? 
Malden's downtown restaurant scene will be your source for food and drinks! And since most people haven't left the house in a year, never mind seeing the new Malden Center, they will be thrilled to know that SIX new restaurants have opened since the start of the pandemic. This is the perfect time to support your favorites as well as explore new places to dine after a fun-filled afternoon of activities.
Q. What ages will this be open to? 
We have told all our vendors and participants that this is a family-friendly event, and we expect their content and presentation to be appropriate for all ages (0-100).
Q. Who will be participating in this event? 
The Summer Festivals are being organized by the Mayor's Office, the Malden Redevelopment Authority, and the Malden Chamber of Commerce, and we have had great assistance from Sum Studios, the Gallery @57, and UMA, formerly MATV.
Q. What will be the best ways to get to this event? Should I take the train, walk or drive? 
Of course, Malden Center is very accessible to our Summer Festivals so anyone looking to take the subway, commuter rail, or bus will have an easy time finding it: just follow the music! Anyone looking to drive to the event can find FREE PARKING at either of our two garages, the CBD Garage at 170 Centre Street or the Jackson Street Garage at 7 Jackson Street. And for those bicyclists looking to utilize all the bike lanes popping up in Malden, they can take advantage of the numerous bike racks downtown.
Q. If I want to participate in this event, how should I join? Will I need to fill out any forms? Will I need to pay? 
We are always looking to add more artists and performers for every festival so anyone looking to display their creativity should contact me at kduffy@cityofmalden.org. There will be no fee to participate and we might even be able to provide a stipend, but we can definitely provide tables, tents, chairs, and an audience!
Q. How long has this been planned? Who has been working with you? 
This came about because of Malden's participation in the state's Local Rapid Recovery Plan Program. Because of the very late start by the state, we got a late start on planning, but everyone has jumped in and worked VERY hard to help build the Summer Festivals. Our goal for 2021 is to look at all these events as pilot programs and to repeat the successful ones year after year in different parts of the city. Come down and tell us which events you liked best!
Q. What events would you recommend joining in? What are you excited for?
Honestly, we have packed each Saturday with a lot of events, but some of them take more planning time so I am VERY excited about some of the later dates. We will have a famous author come to do a book signing for his Malden-based book, there will be a release of Malden's first very own Gaming App, and, since I am of legal age, there will be a Malden Murder Mystery Pub Crawl as well as a SteamPunk Pub Crawl. Come check it all out and support our Malden businesses!
For more information please click on this link to City of Malden's Website: https://www.cityofmalden.org/805/Summer-Festivals