Malden High School's girls soccer team ended their season with a record of 5-13. For the seniors and captains graduating this year, the season came to a bittersweet end after suffering a loss in their senior night game against Gloucester with a final score of 5-2. Despite this, Coach Enrique (Rick) Caceda described the girls' performance this season as being "no quit, all fight." What they lacked in wins, they made up for in "hard work, effort and commitment."
This year's captains were Seniors Sara Dzaferagic, Molly Sewell and Olivia Donahue. Dzaferagic has been playing soccer for ten years, and her favorite memory during her high school career was "representing the blue and gold… with the same girls [she grew] up playing with." Even though she is sad knowing that she has played her final games for Malden High, she is still grateful to have been able to play with "some of [her] "best friends for the last time."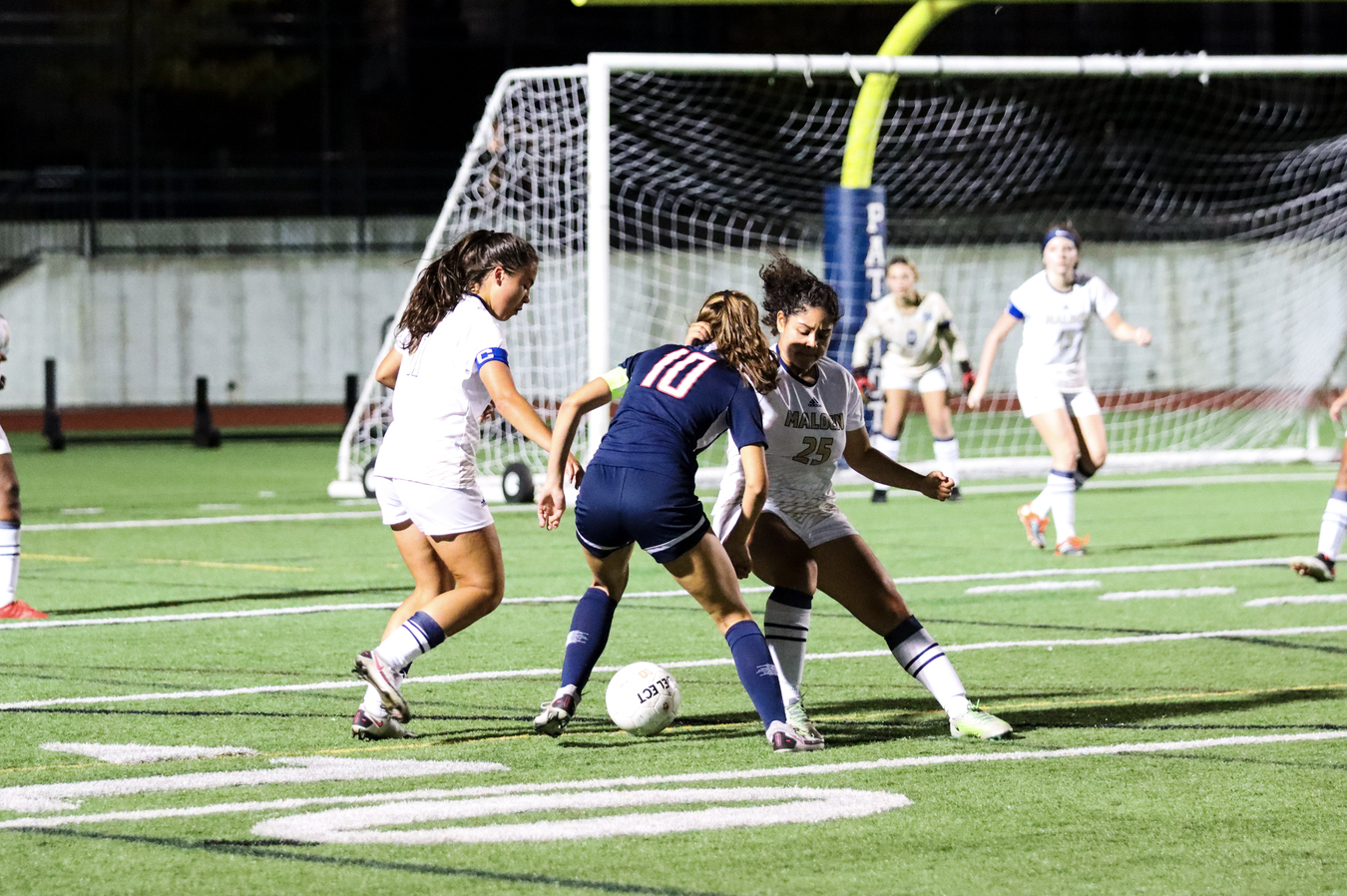 Even though the team has had better seasons in the past, Caceda stated that "this team played just as hard as any team" he has coached for. While the wins they had were nice, the highlight of the season for him was their senior night because of the enthusiastic crowd and presence of family members. The first half of the game "was some of their best" performances of the season. 
During that game, Freshmen Makenzie Jenkins and Addison McWayne scored the two goals. Even though they did not come out with a win, Dzaferagic was still "proud" of their performance against "a very good team." Donahue, who played goalie, thought that it was a "rough game," but she played her position to the best of her ability. 
Donahue also stated that since there are different groups of girls each year, as well as new players joining, the team dynamic varies from year to year. This season they "had a great team" that "worked very well," and they became a "pretty closely knit group." As one of the captains, Donahue really focused on trying to bring the team together. Sewell added that even though there were a lot of new players on the team, they "made a lot of improvement from the beginning to the end of the season."
Coach Rick to the seniors:
"I love them! They were tremendous. I wish them nothing but the best and expect all of them to do big things in life. It was my honor to watch them grow up right before my very eyes. I will miss them all."
In comparison to the past, Dzaferagic noted that this was their "most challenging season" out of her four years. As captain of the team, she had to do her "best to motivate the team even in the tough moments." For Donahue, being captain changed the way she viewed herself as a player, becoming more "confident" and taking on more "responsibilities as a team leader," as well as spending more time focusing on "being a good role model" for the younger players.
Sewell agreed that being captain made the season different for her, but also the fact that during last year's "Fall 2" season, their soccer season was cut short due to the pandemic and restrictions.
This year, there were ten seniors on the team, only three of which were starters. The rest of the starting lineup was made up of mostly freshmen and sophomores, "so there is plenty of growth and development to look forward to" in the future, expressed Caceda.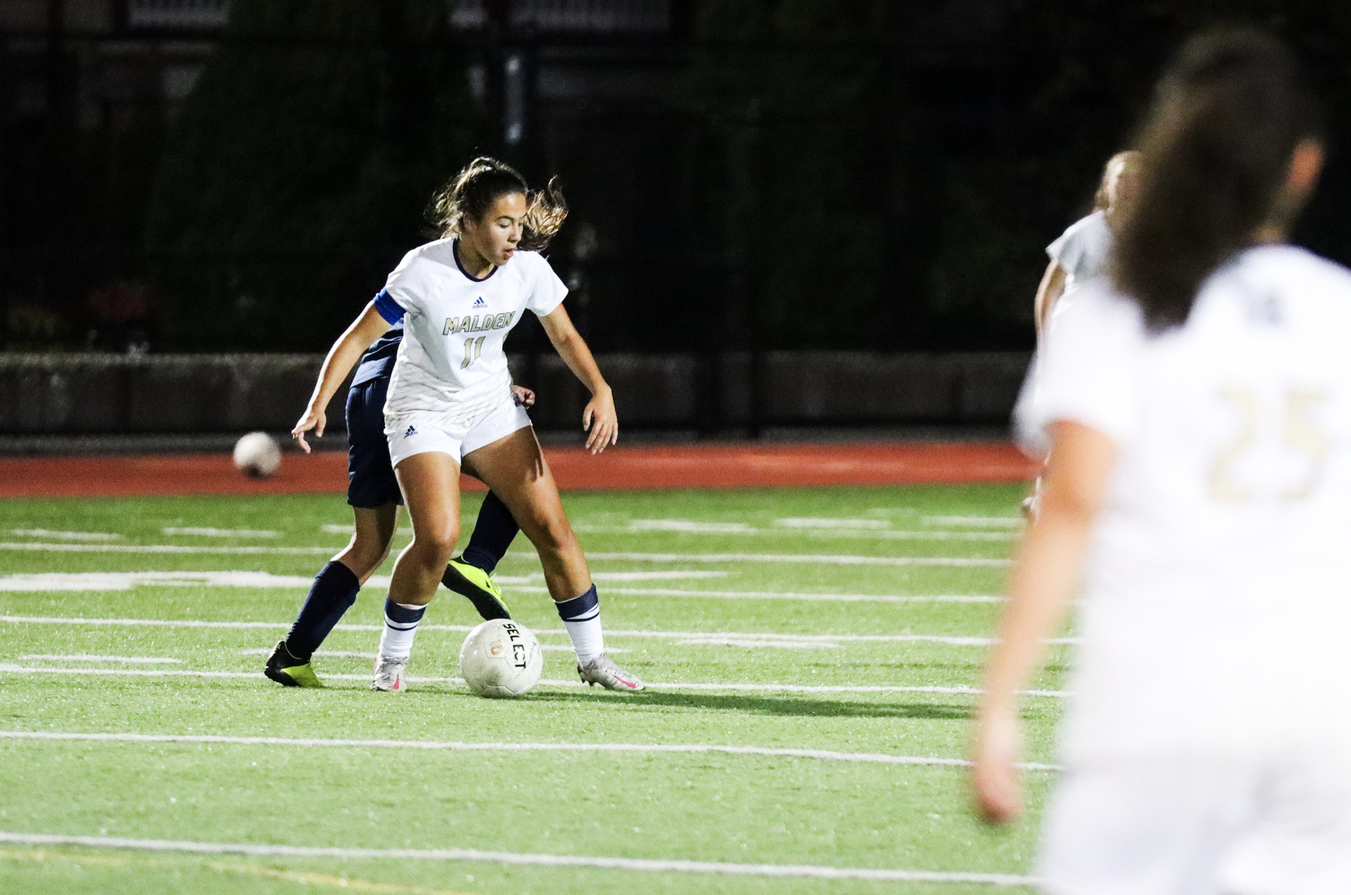 Dzaferagic does plan on continuing soccer in college. She "will for sure find a way to continue to play the sport" she loves. Also, Donahue mentioned that her decision to play soccer after high school depends on where she ends up going to college. If she is "given the right opportunity at the right school," she will "most definitely continue playing." 
When first starting out her freshman year, Dzaferagic felt as if the team was being led by a group of experienced seniors, but now the team dynamic has shifted to be a "mixed group of talent found throughout all four grades." This being said, Donahue thought it was "sad to think that four years flew by so fast," but she is "excited to leave the team in the hands of others."