For many students here at Malden High School, staying fit and healthy is essential. Fortunately, Malden High School's Athletics Department is here to help students stay in shape during their high school years.
All the teachers in the Athletics Department work hard to learn about how staying healthy benefits the human body and to make sure the students have fun at the same time.
"We just want to be able to have a safe environment and we want to do that with learning different skills and knowledge about all the different sports that we play and knowledge about how fitness will help the human body," Mary-Jo Urquhart, one of the gym teachers at Malden High, stated.
Every gym class has the same set schedule and is organized and put together. Urquhart explained the order in which everything is done during a normal gym class. "The gym class is 85 minutes long. The kids show up and they have to have their [Physical Education] attire on. They can bring their stuff down stairs and lock it up in the locker room, come back upstairs, they check in, and then they start walking. We do a 20 minute warm-up and then after that we break into our classes."
She continued, describing the activities in place: "Right now we're doing fitness testing, so we're doing stuff like sit-ups, push-ups, a beep test which is a shuttle run test, a mile run, and a jump rope test to see what our scores are against the national standards. And then we're going to move into our units, as I said we play frisbee, and then we get into football, we get into soccer, hockey, basketball, we play some badminton, ping-pong, we use the weight room, we use the swimming pool because swimming is a big part of our program. Everyone has to take swimming for two weeks."
As Urquhart explained, swimming is a mandatory part of gym class, just like any other unit. "Basically every unit is about two weeks. So the fitness testing takes about two weeks, soccer unit is about two weeks, frisbee is two weeks, so that's why swimming would be the same. At the end we're going to do some baseball, softball. At the end of the year we get to use the bike path a lot to go to a nice community garden that we usually walk through. We talk about the community and how they share the space on that bike path. Sometimes at the end it gets so hot in the gym so we play some backyard games. We'll play cornhole or some more badmitten games."
Many students may see gym class as an opportunity to stay fit, healthy, and most of them enjoy it, but some students dislike gym class, which is what the gym teachers are trying to change. The teachers work hard to make the schedules more organized and put together so the students who don't like gym class can at least appreciate the consistency.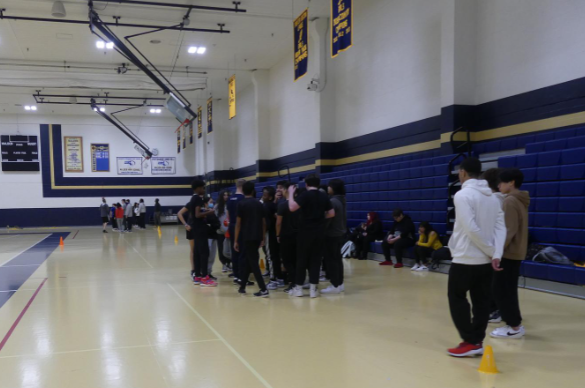 "The pool rotations are getting more organized and we're becoming more efficient. We have a lot more schedules and rotations which will be easily communicated to the students because they'll be posted so everybody knows where they are going when they are supposed to be there. I think it makes the gym experience more comfortable for students who don't always love it–it's not everybody's favorite which always surprises me. But it's not everybody's favorite place to be so at least it's some place that they're comfortable in and it's consistent," Urquhart explained.
The Athletics Department also shares many of the same goals for the students and how they hope the students' experiences are when they play their sport or even just during gym class. "Our goal for this department is that no matter what your level of athleticism is, you are comfortable. This is a fun and joyful experience. And that you are open to trying new things and always sportsmanship is our priority, good sportsmanship," Nancy Wentworth, another gym teacher, explained.
Helping students feel involved and a part of the school is also important and something the Athletics Department prioritizes for the students. "The goals for this department have always been having sports for the students and the student athletes. It's very important to have an extracurricular activity for the students. And I'm sure Mr. Conefrey would agree because he's always looking for doing different things along with the Unified [Sports] also, looking for more sports for them to do to make them feel like they're part of the school," stated Jeanne Marquado, the Athletic Administrative Assistant.