All photos by Jessica Li.
In the past, Earth has taken many names: Tonantzin, Pachamama, Hou Tu, Bhuma Devi, and Gaia. They are all personifications of Earth, and one has even made her way to Malden High School. 
This May, the school's Play Production put on their costumes and makeup to tell the famous tale of "Lysistrata and the Temple of Gaia." 
Written by David S. Craig, it tells the story of patriarchy versus matriarchy. It begins with the female leads (Lysistrata, Pandora, and Cassandra) performing a ceremony for the goddess Gaia. Lysistrata is barren and wants to ask Gaia to give her a child. Surprisingly, Gaia answers.
However, the Earth has been tarnished by excessive gasses like carbon and stripped of its wildlife. Out of anger, Gaia sentences humanity to death and destruction. The female leads try to convince their male counterparts to help save Earth by being "Earth defenders." 
They do not cooperate or believe the story, so the women are forced to use the only weapon left in their arsenal: sexual favor.
The audience was immediately smitten, "amazing, and they laughed and cheered at everything" according to sophomore Ollie Dodge, who played Pandora in the play.
This was also Dodge's first time being in a show, and they mentioned how it "went really well" and "it was an awesome experience."
Moving to the message behind the play, it was explained that there were specific reasons as to why it was chosen.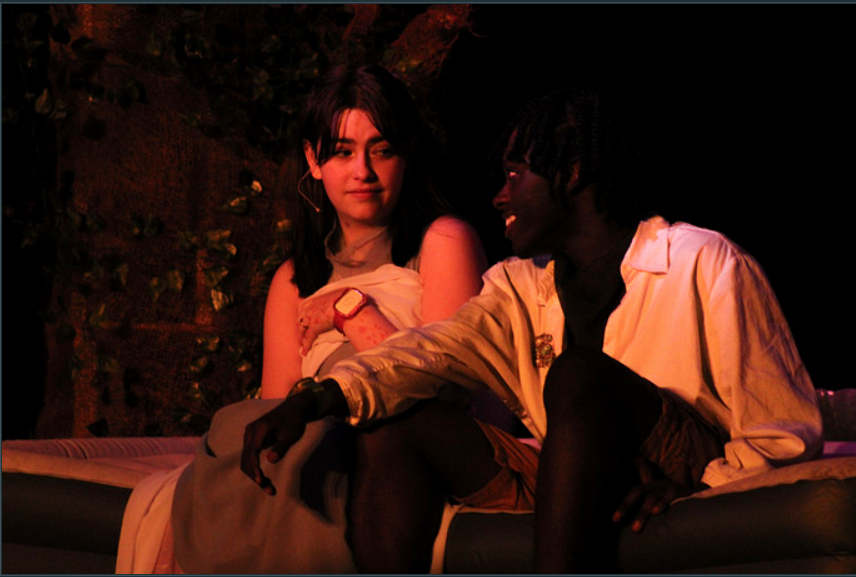 As many know, Play Production will also be doing a rendition of "Mamma Mia" in the fall, so they wanted to save money: "Lysistrata and the Temple of Gaia" was a smaller production that fit their budgeting needs.
Furthermore, the cast and crew were extremely passionate about the underlying message and issues that the play portrays. It talks about climate change, sexism, and feminism, which are topics very near and dear to many students who participate in Play Production, according to Dodge.
Kayla Morello, advisor Leanne DeRosa, and others firmly involved believed that the show was a perfect fit for their needs and beliefs. Thus, they brought the show to life.
Dodge articulated it well when they said that these shows "are supposed to make you uncomfortable and serve as a think-piece that you talk about."
They even explained how the show was eye opening for themselves as they thought about the message behind each song. For an actor to feel so intensely about the topic they are presenting to the public, it is something that the public can feel and they will hopefully carry with them.
The audience was packed and attentive on both nights, and it is safe to say that Play Production has had a successful spring play to end the scholastic year.
Gaia's spirits jeer at the three women.

Cassandra and Damien converse after his military campaign.

Cleon, played by Rashid Khweis, unknowingly bowing down to Lysistrata, played by Mikayla Wilson, who acts as a man to extract information.

The military performs a step dance against the maidens.

Ollie Dodge, who played Pandora, and Jermaine Brown, playing Theo, join hands to bow.

Saia Hussain and the cast acknowledging Leanne DeRosa's contribution to the play and to the students.

Cast pays respect to tech team, concluding the play.