The Muslim community at Harvard University celebrated Ramadan this year with Iftar dinners, prayers, and weekly reflections of the Quran. The program was exclusive to members of the Harvard community and was co-led by Harvard Muslim chaplains Samia Omar and Khalil Abdur-Rashid.
The Ramadan program started in 2019 but was interrupted by the pandemic in 2020. It was resumed in 2021 and has continued as a yearly tradition. These Iftar dinners are free and open to Muslim Harvard ID holders who observe Ramadan, including students, faculty, staff, and their respective family members. 
Around 650 members of the community signed up for the Iftar dinners at different locations such as the Harvard Medical School, the Harvard Dental School, and the Harvard School of Public Health. Around 450 to 500 people showed up for the events each night.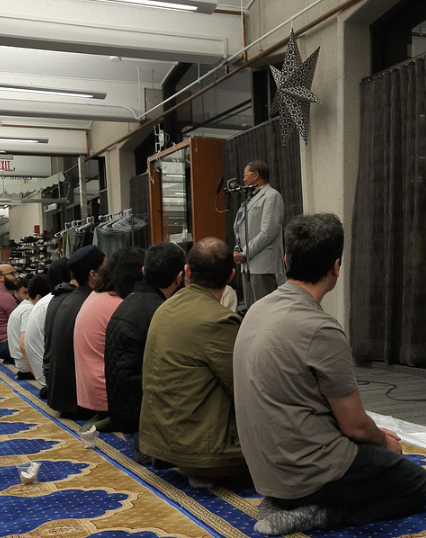 Chaplain Khalil Abdur-Rashid led evening prayers just after people broke their fast, generally with dates and a cup of water. After prayers, which are held at the Student Organization Center at Hilles, everyone got into the line to get their meals. Different cultures' cuisines are reflected in the daily menus, with dishes from the Middle East, Turkey, Central and Eastern Asia, India, and Pakistan. Every day of the week has an assigned menu for it. Each day, there is soup, salad, a main course including meat and other vegan options, desserts, and hot and cold drinks.
"We are given the funds to provide for this and we work with Harvard Dining to provide the food," said Chaplain Omar. "We also have a very good team of volunteers from the student community that help us set up everything and clean up and manage and design and bring all those things together. They sacrifice their time just to serve the community, just to serve others."
Ramadan is an important time for Muslims, and fasting during this period is one of the five pillars of Islam. "The purpose of the fast is spiritual cultivation and spiritual development to bring the person to a greater awareness and mindfulness of God so that the person can have a deeper appreciation of all the blessings that we have," says Chaplain Abdur-Rashid. "And so we fast for 30 days, during that we abstain from food and drink, and then we break our fast at sunset. We abstain from what is normally permissible, so that we can develop a greater appreciation for those things."
The Chaplains believe that fasting during Ramadan can help Muslims be more productive and focused. "We fast during Ramadan so that we can focus more on performing good acts and being productive as opposed to consuming so much. Fasting is a part of the religious tradition in Islam because we believe that the Quran was revealed in the month of Ramadan," added Chaplain Abdur-Rashid. The program includes weekly reflections on the Quran, which allow participants to deepen their understanding of the scriptures and their faith.
The first day after Ramadan is the Eid al-Fitr, which was celebrated at the same place with the whole community of Muslims. Everyone wore the best of their clothes and came out to celebrate the holiday. It was their first breakfast in thirty days and everyone enjoyed it with different breakfast items prepared by both Harvard Dining and people that baked for others.
The Ramadan program at Harvard University is a testament to the importance of community and faith during challenging times. It provides a space for Muslims to come together, celebrate their faith, and serve their community.