Malden High's Varsity Field Hockey team competed against Everett High on Saturday morning, October 28th. Malden won 1-0 in an intense game, motivated by the experience of the seniors playing in their potential last game.
During the game, yelling was heard on everyone's part as a sort of communication for other players. From this sign of communication, strong emotion and anticipation were notable and reciprocated. The head coach, Samantha Souza, was heard throughout the game calling the team out, raising the intensity of the game.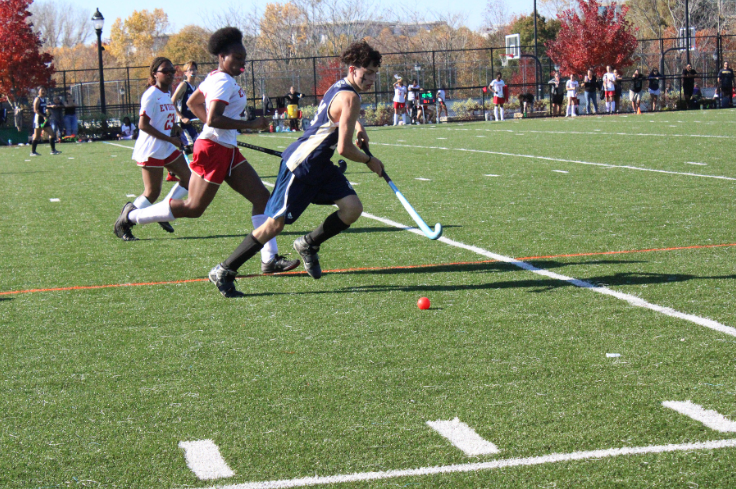 Going into the game, player Shawn Chen, a junior at Malden High, described himself as unsure of himself at the beginning of the game. "My greatest moment of doubt was probably the start of the game. I was unsure whether we would be playing the same team; if they were better or worse, and how our team would play. When we were 0-0 after halftime, I was definitely scared we were going to tie or even lose the game," Chen said.
Throughout the game, Malden and Everett High were both locked at 0 goals and had not scored as of halftime. With reason, this raised worry for many while others kept confidence in their team and kept going.
On Everett's side, the team was also evidently playing hard and impassioned during every bit of the game. Playing a big role in the overall match's vigor. 
In contrast to Chen, Daniel O'Toole, senior captain and editor-in-chief of The Blue and Gold, was more assertive and did not have any hesitancy from start to finish in the game. In fact, he was bursting with emotions the whole game and found himself knowing he would be proud regardless of the team's outcome.
As a senior as well, O'Toole expressed his role in Malden's Field Hockey team in a very moving way, explicating what he went through while playing for Malden. "To be able to say that I was a captain for the most successful field hockey team in Malden High history is a tremendous honor. I will always remember this team and everyone on it who mean the world to me," O'Toole conveyed.
By the end of the game, Malden had scored 1-0 against Everett, creating commotion among everyone from Malden in support of their win. 
This win was huge for everyone and everyone participating had been working hard for their team's win in their final regular season game.