Gustavo Pereira Batista also contributed to this article.
Although this season has been tough, with ups and downs, the Girls' Varsity Soccer Team is sad the season has come to an end but happy about their experience. They have built strong relationships with one another and are sad to see their senior captains and teammates go. 
Captain Abigail Morrison mentioned how the team was not as close before. They did not have much of a connection which made the team feel divided. "We never used to hang out or anything outside of soccer but this year we hang out every Friday," said Morrison.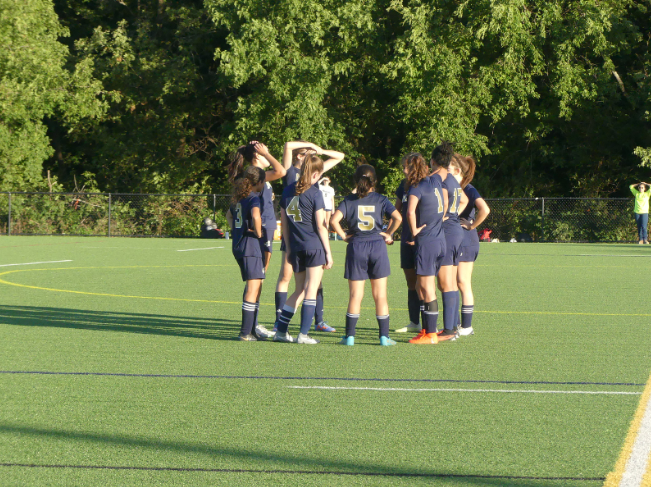 Forming bonds in a team is important; it can make a huge difference in how the team performs. "Since it is my senior year, the other captains and I decided to have more fun and create more friendship bonds," explained Morrison.
Having fun is an important part of sports and forming bonds with teammates. The team had a total of seven wins, ten losses, and one tie. They had a rough start but were able to pick it up and win several games at the end. They felt happy with their scores but felt like they could have done better. Each has goals for themselves next season and the seniors advise future players to have fun but always pay attention and focus. 
Goals some of the girls had was going to States, but, unfortunately, they weren't able to do so. However, the girls put in a lot of effort this season and were happy with their results. The captains seem to agree that the newer players adjusted well to varsity and know they will do great in future seasons. The team thinks they have improved a lot this season and knows they can continue to do so.
Being able to make a comeback after a loss is such a motivating thing for the team. Senior captain Beatriz Souza Santos mentioned that her favorite moment of the season was a 2-1 win against Everett: "They had originally beat us 4-1 at the very start of the season but we were able to play hard and beat them 2-1."
Advice can go a long way for players. Santos' advice is to "keep working hard even if it feels like there is no progress: in the long run there will be." 
In terms of how the games go, there is no doubt the team has enjoyed this season and connected with one another on a deeper level. "I learned how to play with my new teammates," Captain Santos stated. 
Although making it to states was one of Santos' goals she could not accomplish, she still expressed how she could not ask for more: "we already improved what was needed." 
Being able to form bonds, lose and win together, hang out, practice, and get to know each other, made the team feel very close and comfortable at the end. The captains only had positive things to say about the team and were very proud of everything they had accomplished. Although players will be leaving, the team cannot wait to see what is in store for them. The team tried their best this season and their hard work has not only been shown but proved by the rather satisfying comeback they ended up having.