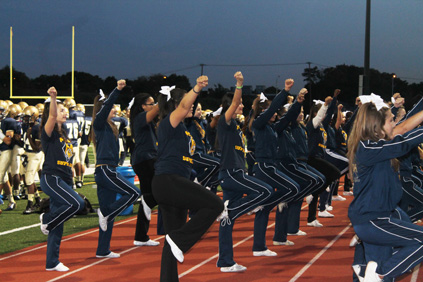 The Malden High School cheerleading team has had a very successful start to this fall season. Lead by head coach Diane Buonopane and senior captains Olivia Verdone and Rebecca McCabe, and junior candidate Santina Solis, the girls are heading in the right direction.
With an amazing turnout of over 65 girls showing up to tryouts in late August, Buonopane explained how "[she and the other coaches] picked 40 talented and motivated girls between varsity and junior varsity." When compared to previous seasons, Verdone stated how "[many of the girls] have cheered with each other before,  [therefore] having developed a bond with [one another]." In addition to the numerous returning veterans who "bring a lot a experience and have more drive than ever" explained Buonopane, the various new girls add to the team.
Solis stated that the team has been on a "bumpy path because of various changes that needed to be done to adjust routines", but the girls have the drive needed to face adversity. The challenges coming throughout the season are pushing the girls to perform their best.
A shared and common  goal throughout the team is to make it to the state tournament, and to bring a title home to MHS. Buonopane hopes for the varsity team to compete in November and "hopefully move on to the the Regional Tournament."  "Our goal is to come together as a team and do the best we can and perform hard at our competitions" stated Solis.
  The girls are training harder than ever, preparing to execute their best at every performance.  With high hopes for this season, the team continues to improve with intentions to better with each and every practice and competition.