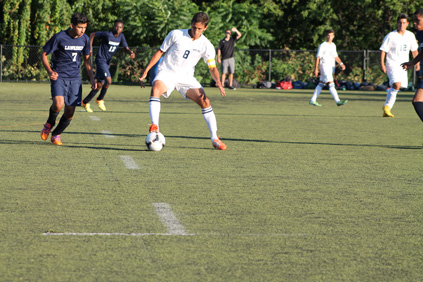 With the blow of a whistle, the Malden High School Boys Soccer team hit the ground running and do not have intentions of slowing down anytime soon. Starting the season off with an undefeated record of 8-0-1, they only need to win one more game to qualify for the state tournament for the third straight year. Head coach Jeremiah Smith returns for his 11th year as varsity coach, alongside senior captains Felipe Calad, Vinicius Silva and Blue and Gold member Julio Da Silva.
MHS has defeated Methuen, Lawrence, East Boston, Melrose, Everett, Medford, Lowell and last year's Division One North Champions, Somerville, who had eliminated MHS from the semi-finals of the 2013 state tournament. Outscoring the other teams 24-2 during this season so far, with six goals apiece are Da Silva and Calad, followed by sophomore Felipe Cypriano with four goals. MHS' one tie came against Brookline in a well-played game on both sides of the field by both teams ending in with a score of 0-0. Whereas the highest scoring game they have played was against Lawrence, winning 6-0 being led by Da Silva, who scored four goals, as well as Calad and sophomore Josh Crespo both with one goal.
The team is run by 11 returning senior players, along with a talented underclassmen coming off the bench. Giving the team a variety of ages and players, along with some new faces.   
Senior Mark Ortiz has had seven shutouts already this season and is a key factor to the team's success as well as the defense including seniors Anthony Caceda, Gabriel Tiago, Silva, Matt Silva and junior Mateo Ruperti. Ortiz stated that "the defense is strong this year and without them, the team would fall apart. They know how to play together. If [they] continue to play the way [they] are, [they] should have no problem making it to the state tournament."
With their season starting off on a high note, MHS is now ranked 17 in the state and with more wins to come, that ranking is likely to improve. The team is also number one in the Greater Boston League with a 3-0 record; winning the GBL for the second time ever in MHS history looks promising. The last time they won the GBL was in 2006 when Da Silva's and Cypriano's brothers were on the team. This season has a lot in store for the team as they continue to make history for MHS.