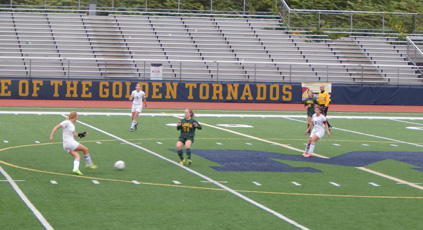 A group keen on unity and endurance, the girls varsity soccer team is starting this season with a positive mindset. As the season is kicking into action, the girls are ready to amp up their game. Despite not making it to states last year, they are committed and determined to not only achieve that goal this season, but to improve their team as a whole.
Their dedication and tenacity is proven by senior captain Betty Yacsavilca, in which asked what were the team's goals, responded with, "To work better together. I know that we have potential to work together because we can do so much. I know we can make it to states this year." Her great love for the sport motivates her to aim higher every game, carrying her through previous rough patches.
The girls are recovering from their losses of both games and players from the previous season. Not only are they learning to work without the four graduated players no longer on the team, they are striving for improvement more than anything. Engrossed in optimism, the team is ready to turn over a new leaf and work on their weaknesses.
"Communication is key," fellow senior captain Samantha Drapinski remarks as both a team and personal goal. "[We] need to learn to communicate better on the field."
The team is led by coach Rick Caceda, who has been coaching the varsity team for two seasons. He is avid in sharing his knowledge with the girls and refining their skills.
What sets apart the team from others is their ever-present bond, essentially described as a "second family" by both Yacsavilca and Drapinski.
"They're a tight unit," Caceda adds. "They're all really good friends and the more seasoned players actually take the younger players under their wing. There's good leadership."
As for advice to newer players, according to Caceda, the key to being successful at soccer is to "always play with confidence. It takes you far." From Drapinski, "I always tell the girls, it used to be my quote to get everyone on the team pumped up, 'No matter if you get skinned knees or elbowed, it's always worth to score a spectacular goal.'"
Whether the team reaches their goal of making it to state, the unbelievable amount of dedication and work the team has put into their games make it evident that this team is unlike any other at Malden High. As competitive as the games get, the girls constantly remind each other to have fun no matter what. We wish this team the best of luck for the rest of the season.
On the game played on Oct. 3, 2014, the girls played against Lynn Classical in honor of Karina Moreira, a sophomore who passed away on Oct. 2, 2014. The girls played with black armbands on their left arm to show their condolences to Moreira's family. On Oct. 24, 2014, the girls will play their pink out game against Triton, in support of October being Breast Cancer Awareness Month.
The girls plan on continuing to train vigorously with hopes of having a successful turnout for the rest of the season.