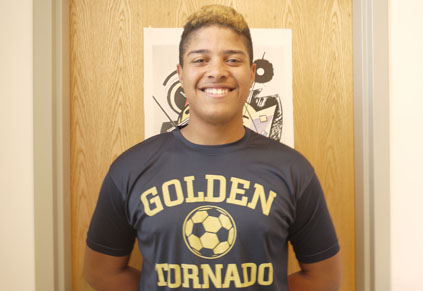 Senior Mark Ortiz is a key contributor to the success behind the Malden High School boys, having 13 clean shutouts during the undefeated regular season. The team finished their season 16-0-2, being MHS first ever undefeated boys soccer season. Born in Cambridge, Ortiz resided there until the age of seven where he moved to Malden and enrolled into Ferryway elementary school in second grade.
Ortiz's passion for soccer started when he was in sixth grade. He likes the "fun you can have as a team," and its ability to bring everyone together. Ortiz stated, "You spend so much time together and you go through highs and lows." and the bonds hes made through high school soccer is something he will never forget.
After high school ends in three quarters, Ortiz plans on attending a four year college and study in the science fields. Interested in schools that have a good chemistry or biology program. Ortiz is indecisive about where he will be attending in the fall but some of the schools on his list include Clark, Brandeis and Wheaton. He would not mind playing soccer in college either, but is unsure if he is going to.
Ortiz is the Treasurer for the class of 2015 and has been since freshman year. He took Advanced Placement chemistry last year which was his favorite class he took while at MHS. This year is in AP Calculus, Government, and Environmental. Ortiz volunteered last year at the special olympics, and plans to do so again this year.
Besides soccer, Ortiz played baseball freshman and sophomore year as well as indoor track every year and outdoor track his junior year too. During indoor track and outdoor track, his event is the shot put in which he qualified for the state tournament both sophomore and junior year.
Ortiz's advice for underclassmen is "once you commit to something, do not give up. Even if you think you are getting nothing out of it, you are. Spending time with people in high school is something you will never forget. So make them good memories."