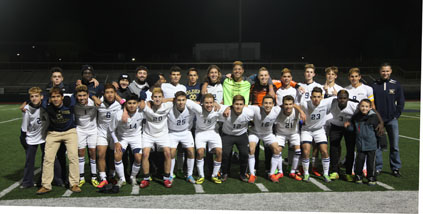 For the first time in Malden High School history the boys Varsity soccer team finished the regular season undefeated with an outstanding record of 16-0-2, now with a 2-0 record in the state tournament they plan on continuing to be the first MHS soccer team to win states. Being led by senior captains Vinicius Silva and Blue and Gold member Julio Da Silva, the team shows no sign of slowing down the pace they started the season with.
The bond this team has is like no other, constantly striving for success. The team has grown this season by everyone playing for the team and not for themselves. Senior Mark Ortiz said " [they] have all built [their] passion for the game and our energy makes [them] much more hungry."
On Oct. 20 MHS defeated long time Greater Boston League rival Sommerville, who knocked MHS out of the state tournament semi-finals last season. The final score being 3-1 allowed MHS to win the GBL title for only the second time in history, the first time was in 2006. Finishing the season off with a 1-1 tie against Medford by a last minute goal by junior Bruno Da Silva to keep the perfect record intact. Their hard work and dedication this season led them to be ranked 10th in the state. Outscoring their opponents 54-5 throughout their 18 game season. The end of the regular season marked the end for 11 seniors who are playing their final few soccer games as a MHS student.
Ortiz was in net this season for varsity for his third year. This season Ortiz had a total of 13 shutout games, a MHS record. Ortiz feels that "the way [they] got knocked out last year's tournament made [them] want it even more." Julio Da Silva led the team with 12 goals scored, followed by senior Felipe Calad with 10 goals, then Bruno Da Silva and sophomore Joshua Crespo with seven goals apiece during the regular season.
Making their third straight appearance to the state tournament, MHS was the first seed in the Division 1 North bracket giving them a bye game in the preliminary round. In the first round MHS faced off against Lowell high school for the third time this season, and for the third time Malden defeated them. This time with a final score of 6-1 with goals scored by seniors Julio Da Silva, Matt Silva, Calad, and Kingdolph Julien.
MHS advanced to the quarter finals against Framingham on Nov. 8 at MacDonald Stadium. The game came down to a nail biting penalty kick for Crespo with under 7 minutes remaining in the game, left the
crowd ecstatic, giving Malden the 1-0 lead to end the game and Ortiz his 14 shoutout. The boys advanced to the semi-finals on Nov. 11 against St. Johns Prep and unfortunately lost but are still.