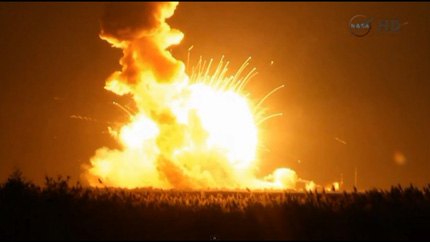 Just seconds after liftoff, an Orbital Antares rocket that was bound to bring cargo to the International Space Station exploded at NASA's Wallops Flight Facility in Virginia. Fortunately, the rocket was unmanned, and none of the ground crew were seriously injured.
The spacecraft was carrying 5,050lbs of cargo, but no crucial cargo was lost during the explosion. The cargo that was lost is being replaced, but it will be weeks before NASA knows when it will be sent to the space station. The total cost of the cargo, spacecraft, and rocket is about $200 million, and it could be more if there has been extreme damage done to the launchpad.
NASA is aware that they cannot repair the spacecraft and rocket, and believe that the event is an example of how difficult it is to deliver cargo to the space station. Many people who witnessed the incident were confused and shocked at the sight of the explosion because there were no technical issues before the launch.
Although the environmental impact has not been determined residents around the Wallops area have been asked not to touch any of the debris from the incident because it may contain hazardous materials. The remains of the incident are being collected by the authorities for investigation.
The remains of the spacecraft and rocket fell back to earth, causing even more flames during impact. NASA has yet to evaluate the cause behind the explosion or the damage of the launchpad. The launchpad is going to be repaired in the near future, but NASA does not plan on launching any Antares rockets until the cause of the problem is identified.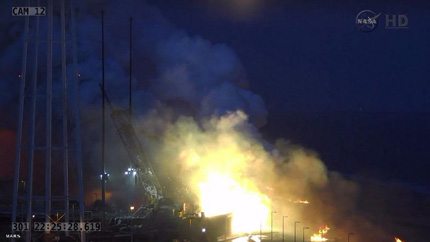 The space station has enough supplies to last about a year, and NASA is still looking to send out cargo. If Orbital can't resupply the space station, there are many other companies who can get the job done. SpaceX and a Russian Soyuz spacecraft have planned to resupply cargo for the space station crew.
The failure of the rocket had raised questions of whether the rockets that NASA is launching are reliable. The explosion has caused many people to become worried about NASA's plans to send astronauts to the space station in 2017. NASA recently signed contracts with companies that are similar to Orbital, such as SpaceX and Boeing.