With a direct goal to provide more nutritional school food, the school utilized its new staff members and transformed the lunch program into a more healthier option for students. The addition of a new Food Service Director and Head Chef allowed the school to venture out of its comfort zone and try new ideas.
Food Service Director Elinore Perry, hailing from Topsfield, Massachusetts, hopes to bring her rich past with food to Malden High School. Perry has "loved cooking" since she was young and took many opportunities to take internships with restaurants, colleges, and Whitman's, the company she now represents at MHS.
With juvenile intentions of entering the world of culinary arts, Perry earned degrees in culinary and culinary nutrition. Her love for cooking was evident at a young age when she "[tried] to make food for [any] project... even if it [was not] a requirement." Through the work of her company, Whitmans, she continues to use her expertise at MHS.
The school also welcomed Omar Hernandez, a native of California and a new visionary at Malden High School, with open arms. His background in cooking at hotels helped him adjust to the school setting. His old schedule consisted of working days and nights, with Monday and Tuesday as his weekend, but working in a school gave him the same breaks as students. For Hernandez, "it was a change of lifestyle."
Growing up in southern California, in a small town of Bonarelli, Hernandez gained a strong appreciation for culinary arts. Since the sixth grade, Hernandez "knew [he] wanted to be in the food industry." Although cartoons were a part of Hernandez's past, cooking shows were more prevalent. With his early interest in cooking, Hernandez developed his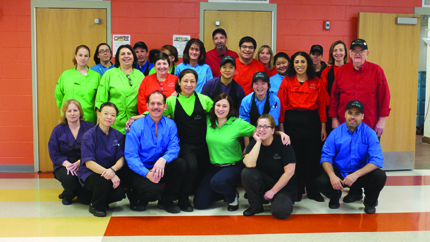 career and gained a strong appreciation for the arts.
Joining the MHS crowd ensured that he worked closely with the students, which is a main focus for his company, Whitsons. The company focuses on producing a "complete meal" for the student body, and Hernandez has a vision of students and staff working together to achieve that.
Both Hernandez and Perry value the opinions of the students because afterall, it is their lunch. For them, "every month is trial-and-error... [They are] trying to find out what students like and [do not] like."
For many students, lunchtime is an opportunity for them to catch up with friends, do some last minute homework, and most importantly, enjoy some food before the last haul of classes. With the exception of some privileged seniors, most students have only thirty minutes to eat lunch- the last thing they want to eat is an unsatisfactory meal, which the new management wants to avoid.
The new program met positive feedback with some students. Senior Frank Cruthird thinks the new food is an "upgrade from last year because there is more self serving stations, which makes eating lunch a lot more quicker and a lot more efficient." Boyle House principal and Jenkins House principal, Chris Mastrangelo and Kevin Kilbride respectively, add to Cruthird's statement, saying that "there is a lot more variety in the lunches," which includes more healthy alternatives.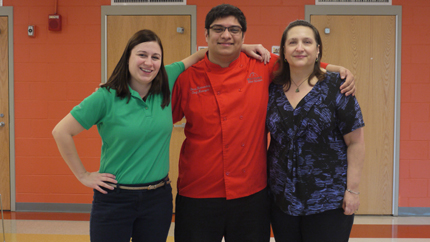 The options for food has increased: with lines that bear the names "Coyote Grill," "La Cucina de Italiana Bistro," and more, students can look forward to lunch everyday.
Although lunchtime leaves most students feeling better about the rest of the day, terminating breakfast in Cafe B sparked anger among students who enjoyed thoroughly it in the past few years. The reason is simple: state guidelines encourage schools to not serve coffee to students.
As a country, there are "gray" areas concerning the coffee question, "but in Massachusetts, they try not to do coffee for students at all..., so [the new management goes] by state rules first…," Perry stated.
Changing the rules about serving coffee to students was the first statement the new management made, and because of their firm hold on state policies and the continuous change of requirements for school lunches, the student body, and school as a whole, can expect a great things from the lunch program's new management.