Another year of winter sports is another opportunity for the Malden High School swim team to mark their title in the water. The team is currently 3-0 with their wins against Somerville, Medford, and Malden Catholic. Since Cambridge left the GBL there are only two teams other than Malden that participate in the swimming. The team is currently the reigning Greater Boston League champions from last season. The team is lead by senior captains Kelvin Nyguen, Tristar To, and Samantha Dorazio. In addition to coaches Paul DeVencentis and Jessica Bisson.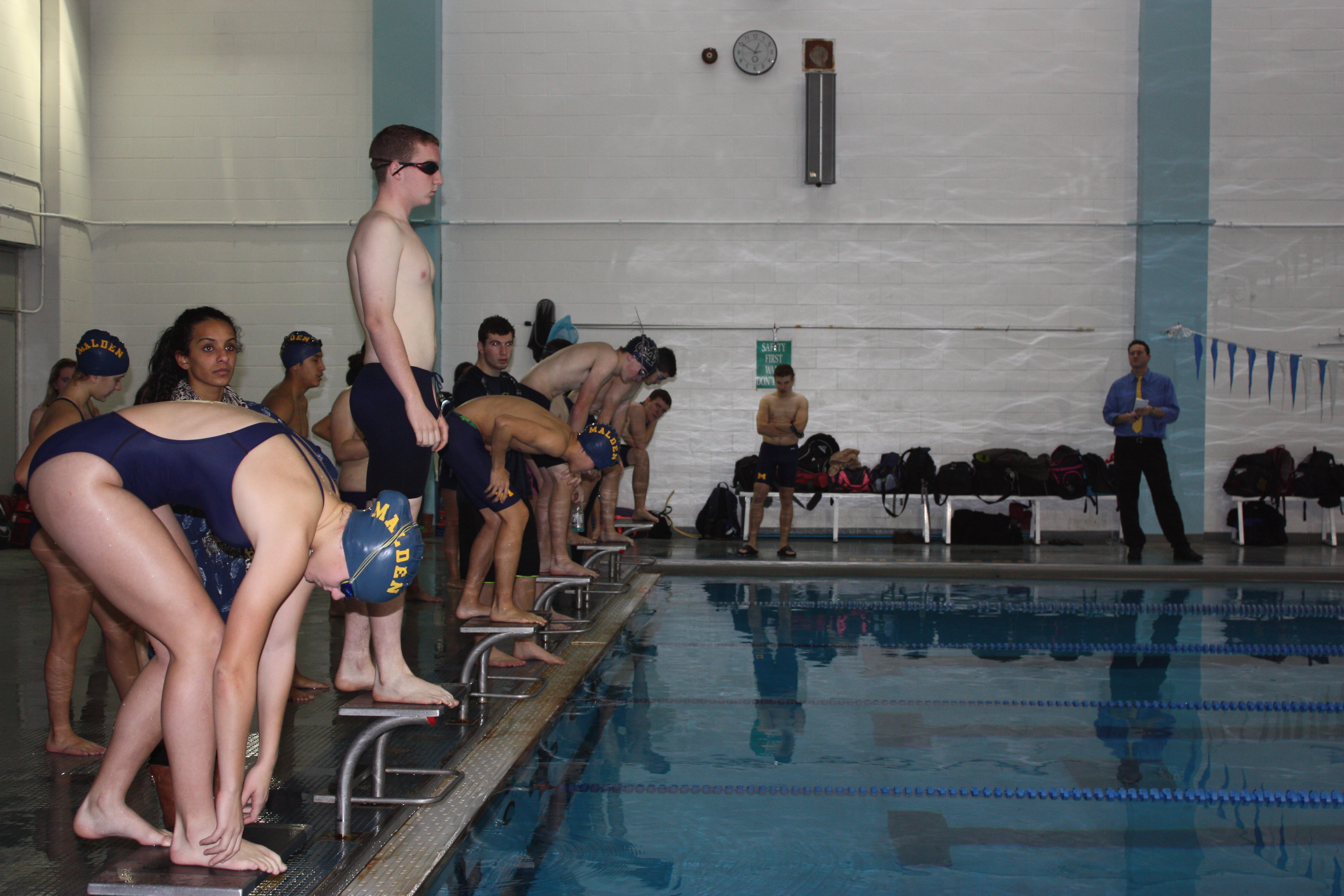 The 40 plus member team started the season on a great note on Dec. 22, 2014 at their meet against Medford. To says, "Most people from this year are [returning] from last year." But, "There are also new contributions to this year's team which are really going to be  help us and the team." says Captain Samantha Dorazio. MHS swim teams goals are very high this year and expect to accomplish various things by the end of the season. "We are having a really great season so far, and the team is working really hard and we are hoping to have another great year." says senior captain Dorazio. Swimming is not only a difficult sport to be active in but also to captain and coach. To says, " It is a lot of pressure especially stepping into the shoes of the previous swimming captains but it is definitely  an honor and also a privilege to be in this position and to be apart of a team with so many great swimmers.
"Swimming has its difficulties but benefits too. Dorazio says, "It is definitely a different role in sports but also an exciting role especially because I was learning from such great previous captains." Both captains have many responsibilities being a captain and trying to help everyone as much as possible. Dorazio also says, "A lot of people have never been in a swimming league, so there are a lot of questions like how is my dive and a few concerns about the meets and just general questions like that." MHS's swim team are not only a bunch of students gathered together to compete in something they love doing, it is a family who is gathered to compete together in what they love doing. Coach Paul Devencentis says, "A couple of guarantees I can make, and you cannot make many guarantees in life. You are going to learn about commitment and the value of hard work, you are also going to learn what it means to work side by side and to be part of a team. They are always going to have your back and you will always have theirs. It is an incredible learning lesson. We have kids that come down from past years and they are always at the swim meets and supporting us." MHS swim team is not only a great way to stay fit and healthy but to meet new people and learn lessons that will help athletes  later on in life.