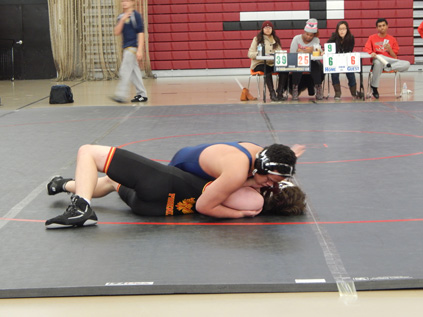 With the new winter season comes a new wrestling season here at Malden High School. Lead by English teacher Jeremiah Smith, who is also the MHS varsity boys soccer coach, the team has a strong backbone. Accompanying Smith are senior captains Johnny Pierre, and Shaun Ahern.
With both a junior varsity and varsity team, the team has a variety of players. With only six seniors, the team has great talent that is forming in the underclassmen. Smith explained how "the team came into the season without much experience, but we have shown great progress so far." He stated how "this years team is full of new wrestlers who are just learning the sport this year." Smith added how "[the boys] have a tremendous amount of potential."
The team is currently 2-4. With the wins against Asma HighSchool and Josiah Quincy High School. In addition to these two teams, the team has had rough losses against competitiors like Salem, Greater Lowell, Minute Man Tech, and Bilerica. The team has been "[playing] competitive in three of the four losses," according to Smith. In addition to the dual matches, the team has participated in two major tournaments. Key performances included those of both "[Ahern], Pierre, DJ Exoilhome, and Deya Chouiki" stated Ahern. Ahern transferred here this year from Timberline Regional High School in southern New Hampshire. Having been wrestling for eight years, Ahern is a great addition to the team.
Wrestling is one of the few sports where the players compete both "as a team and individuals," according to Smith. The team hopes to have a great turnout at the sectional meet in February. For wrestling, everyone qualifies for sectionals, and their performance there determines who moves onto the state tournament. Smith explained "how the goal of the team is to qualify 4-5 for the state tournament, and have some [of them] place at that tournament."
With still nine more meets in the season, only one meet is a Greater Boston League meet, which is Jan. 14, 2015, where they will face Everett for the league title. The team hopes to continue improving with their practices and meets, in order to perform their best throughout the rest of the season.