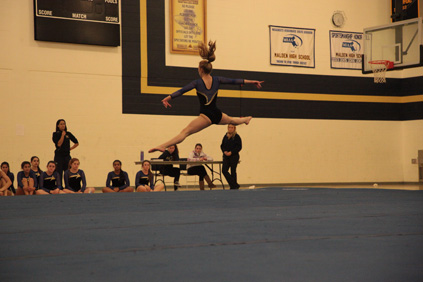 Gymnastics season has begun again and the Malden High School team could not be more excited. The team has been working hard to develop their skills, but reminds one another to have fun while doing so. A goal that has been made is that team members walk out of every meet knowing that they put in their greatest effort.
The only thing that MHS gymnasts enjoy more than working on their skills is competing in competition. Since gymnastics is a very judgmental sport, when a gymnast does good on a routine and get a great score it is that much more of an achievement. On the floor event he or she is giving about 1 minute and 30 seconds to show the routine with dance, tumbling, and acro. Then there is vault where there is a runway that a sprint down and jump on a spring to help them flip over the fault. The uneven bars are 2 bars ( on high and low) that you complete challenging skills on. Finally the beam is a piece of wood that the gymnast is balanced on and are once again given a certain amount of time to show off what you've got.
After losing some amazing athletes last year, this only made the team work harder to live up to their title as GBL champions. With the help of the new additions to the team and all the efforts that they have put in, they are all confident that the team will do just as well as it has in the past.
Junior Jessica Munroe had some advice to younger members on her team "Never feel intimidated because someone maybe be better than you or the judges give you a bad score… You'll fall a lot and want to give up but never
get discouraged just keep working."
Also junior Kiley Ruelle looks forward to "just having just a stress- free, fun season and to continue to encourage my teammates as well as myself to work as hard as we can in order to finish every meet satisfied." Overall the MHS Gymnastics team is looking forward to a great season, and everyone is impressed with the teams hard work and commitment.