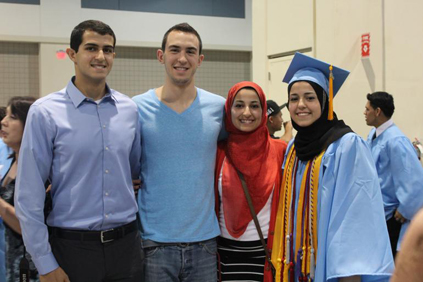 On Feb. 10, 2015, a Tuesday afternoon, Craig Hicks (46) of Chapel Hill was indicted for the murder of three Muslim students and for using a firearm in an occupied dwelling near the University of North Carolina. The victims, Deah Shaddy Barakat (23), his new wife, Yusor Mohammad Abu-Salha (21), and her sister, Razan Mohammad Abu-Salha (19), were shot that afternoon in their home in Finley Forest Condominiums on Summerwalk Circle in Chapel Hill, North Carolina. 
The Justice Department and FBI are investigating whether the crime was either a religious bias, or if it was solely a long-running parking dispute. The victims' families are certain it was a hate crime. "To have him come in here and shoot three different people in their head- I don't know what kind of person that is," said Namee Barakat, the father of the male victim. 
The murders instantly set off a worldwide debate over whether the students had been targeted because of their religion, with Muslims picking up some of the language of those who protested against police shootings in the United States, using the term "#muslimlivesmatter" on different social medias. 
Neighbors said Hicks constantly complained about people parking in his spot at the complex. The towing business said they eventually stopped answering to his calls. He also openly expressed his dislike of all religions on his Facebook page. His posts showed support for atheism and criticism of Christian conservatives. However, Hicks' wife stated that she "can say with absolute belief that this incident had nothing to do with religion or the victims' faith, but it was related to a longstanding parking dispute that [her] husband had with the neighbors."
Barakat was a dental student at the UNC-Chapel hill, and Yusor Abu-Salha would begin her studies there in the fall as well. They were married in December, after she graduated from North Carolina State University. Her younger sister was a sophomore at N.C. State studying architecture.  All of the victims are of Syrian descent; however, they were born in the U. S. and grew up in the triangle area of Raleigh-Durham-Chapel Hill.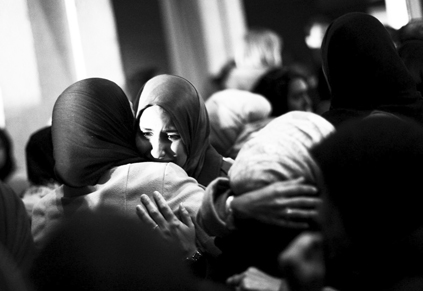 As authorities say, all three were shot in the head in a condominium complex near by the University of North Carolina-Chapel Hill campus. One of the Abu-Salha sisters was found in the kitchen, the other in the kitchen doorway, and Barakat was found in the front doorway. 
Along with thousands of friends, students and supporters showing up on the two campuses for vigils, over five thousand people attended their funerals on Thursday, Feb. 12, 2015. 
Hicks had a license to carry a concealed weapon and advocated for gun rights. He is being held without bail. 
For more information on the shooting visit the following websites: 
http://www.cnn.com/2015/02/16/us/chapel-hill-shooting/
http://www.nytimes.com/2015/02/12/us/muslim-student-shootings-north-carolina.html?_r=0