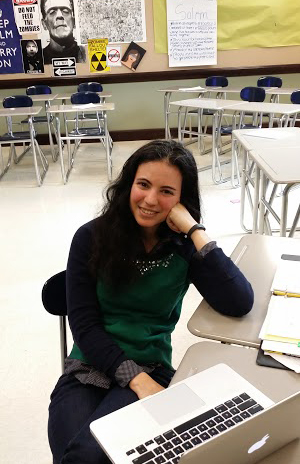 Natalia Brennan has been an English teacher at Malden High School for nine years. She teaches English 10 Honors, English 11 College Preparation, and a Monsters in Literature class for seniors. Brennan started off her career as a student teacher with Beverly Nyman in the fall of 2005 and was later hired to work full time for MHS in 2006.
Brennan is currently working on two projects here at MHS, the 1:1 initiative for freshmen and a pilot digital literacy class for ELL students.
The 1:1 initiative plans to give every freshman at MHS a Chromebook to bring home for school related work which will then be given to every student after the freshmen. They have been planning this program for almost a year and they plan to start handing out Chromebooks in the first couple of weeks of March. This exciting program will provide "equitable access to technology for every student and create new learning opportunities for staff and students," as said by Brennan. She joined the 1:1 team to see "how creativity and technology can come together and how it offers students another way to demonstrate their understanding of something"
Brennan is also working on a pilot digital literacy class for ELL students at MHS that is run by Shereen Escovitz. Escovitz is currently working on a fellowship to create an international learning academy for ELL students. The pilot digital class was created for "students who had little to no exposure to computers and technology and was meant to give them skills they need to be successful in a 21st century classroom," stated Brennan. There are many students at MHS that have had no exposure to computers or any other sort of technology. The program written by Brennan teaches students the basics to prepare them for future careers that require an understanding in computers
Brennan has plans to become a Google Certified Educator in the near future. A Google Certified Educator has an "advanced knowledge in Google Apps for Education," as described on the website. She has been putting most of her time and energy to focus on "researching and experimenting with different learning models and practices that involve technology" to achieve this goal.
When asked what she thought of MHS, Brennan stated that she "love[s] teaching at MHS. It is a unique, diverse school that reminds [her] of [Central Falls High School], [her] own high school." She also added that, "staff here are collaborative which makes it a great place to work. It nice to be in a place where [the] colleagues are supportive of new ideas and are willing to help."
Brennan expressed that students at MHS are "funny, dedicated, and really, really kind." She also stated that "they humor my inner nerd that tends to shine in class."
"When people ask what I do for a living, and I tell them I teach high school English, they cringe and say the kids must be a handful. I tell them no, they are great people and I am honored to know them and watch them grow."
A focused and hard-working member of the Malden High community, Brennan plans on directing her time and energy on becoming a better teacher.