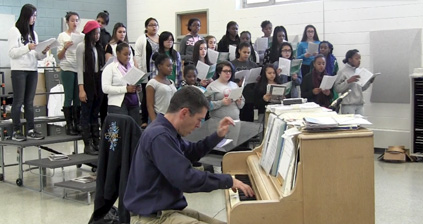 Dozens of students from all grades, who share a passion for music and singing join the Mixed Chorus class, an introductory course taught by the talented and inspiring Malden High teacher, Todd Cole. Mixed Chorus is geared towards teaching students with all ranges of all singing experience how to sing properly, how to practice perfecting that skill, and even training them to sing in other different languages, and also how to read music along the way.
Cole comes from a small town called Elmira, New York. During junior high school Cole was inspired by one of his teachers to pursue a career as a teacher, and additionally with his time in high school he had found more inspiration in another teacher that taught him how he wanted to teach. In his schooling, he gained an opportunity to work in a great music and theatre program, followed with more opportunities of working in musical theatre throughout a series of other high schools. He participated in several musicals, some like the Little Shop of Horrors, Pippin, South Pacific, and West Side Story. After graduating, Cole matriculated to nearby Ithaca College where he got his undergraduate degree in vocal performance and music education. Gaining his degree he went and taught for two years in New York before returning back to Massachusetts to pursue further education at Boston University, where he got not only his Masters degree in vocal performance, but met his also artistically talented husband, Johnny Cole. Cole also used to play the cello, but now only frequently plays the piano and says that his "primary instrument is [his] singing, [his] voice."
The Mixed Chorus class is free for all students to take. Even if you have never engaged with the musical arts at all, Mr. Cole is capable of "teach[ing] anyone how to match pitch or read music." Through a teacher's perspective, Mr. Cole mentions that Mixed Chorus is the most fun course, but also a very challenging one. Having to instruct such large classes with incredible energy and excitement, it comes with the difficulty on harnessing it. He works not only on choral literature throughout this time but also solo technique as to know what they need to focus on individually to become better choral singers. One of Cole's favorite aspects of the course is watching the progression and evolution of their singing abilities, specifically seeing the change from September to June, which he refers to as "night and day."  The two main events are a Winter and Spring concert, and in between there is much preparation for these two events.