On the sunny morning of May 2, 2015, Prince William and his wife, Duchess Catherine of Cambridge, welcomed their second child to the world, Princess Charlotte Elizabeth Diana. The new baby is fourth in line to the British throne, behind her grandfather, Prince Charles; her father; and her older brother, Prince George, born in summer 2013.
The Princess' name follows William and Kate's inclination to honor stringent royal traditions, as well as more modern family ones. Charlotte is a reference to William's father, Charles, and Kate's sister, Pippa Charlotte Middleton; Elizabeth, from the current Queen and both Kate and her mother's middle names; and Diana, in homage to William's late mother, Princess Diana, the People's Princess. British supporters of the royal family had been betting on baby names for months when the new Princess was born: the general consensus placed Charlotte, Diana, Elizabeth, and Victoria just behind the public's favorite, Alice.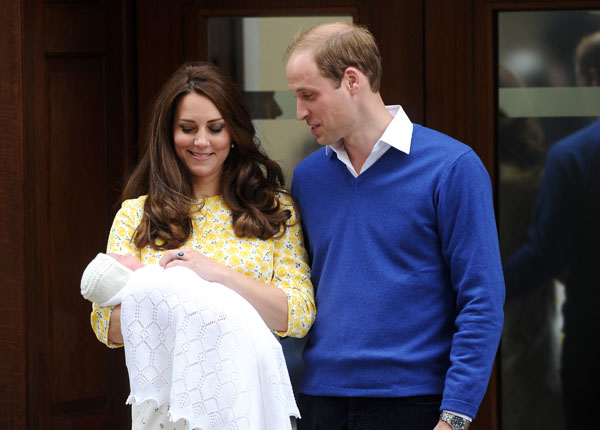 Once Kate entered the hospital, large crowds of fans gathered outside the entrance awaiting word on the new baby, holding signs of encouragement and praise and giving interviews to the many news crews that joined them until the baby was born, but allowed the royal couple their space for the most part. Amy Thompson, 14, told yahoonews.com in an article published Apr. 29 that she had been camping for eight days: "Some people camp out for iPhones and concert tickets. I do this."
William and Kate showed their appreciation to their fans by sending coffee and breakfast pastries out to them a few days before the baby was born. The gift was sent by a police officer, who told the crowd, "The Duke and Duchess saw reports of you all camped out and wanted you to know they were thinking of you," and arrived with in a basket tied in a pink ribbon, which some believed was the royal couple's way of announcing they were expecting a girl.
The Princess' birth has been celebrated by the world throughout gifts and promotions by various companies: a pair of special edition organic nail polish has been released by Nublar Nails: a pink, glittery polish called "Royal Charlotte Pink," and a blue glittery polish to match, "Royal George Blue." Several thousand dollars worth of donations have also been made in the Princess' name, both by esteemed politicians and dignitaries and the general public.
The new baby, whose official title was later announced as Her Royal Highness Charlotte of Cambridge, slept through her first public appearance, made less than 10 hours after her birth on the family's way out of St. Mary's Hospital in London; the royal family departed London for their home in rural Norfolk. Her maternal grandparents, Carole and Michael Middleton, will reside with the royal couple for the first few months of the baby's life to lend a helping hand, just as they did to after the birth of their grandson, Prince George. Less than a month into Princess Charlotte's life, however, reports are already circulating regarding Queen Elizabeth's resentment of the Middleton family's involvement in her great-grandchildren's lives.