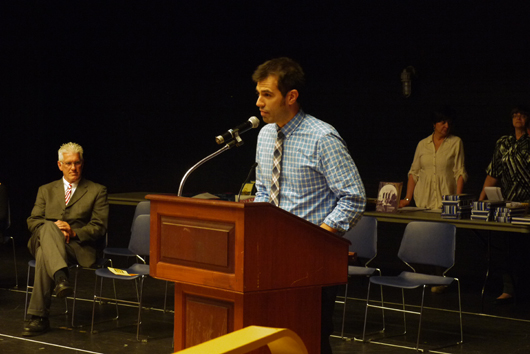 Malden High School recognizes many of its seniors for their persistence and dedication throughout their high school career with a variety of awards and scholarships.
On Jun. 2, 2015, Malden High School continued its annual tradition of Senior Awards Night. This event took place in the Jenkins Auditorium, where numerous MHS seniors received awards and scholarships based on class performance, leadership qualities, and overall showcase of effort. Students that stand out to staff are recognized for their hard work and dedication.
This year, the event was coordinated by Jim Valente, media teacher and yearbook advisor.
The academic awards given during the night were in relation to core classes. English awards were given in many categories from different senior classes ranging from Through the Looking Glass, Monsters, Mystery, and Advanced Placement English Literature. Lead English teacher Sean Walsh states that he is "always inspired by the accomplishments of our students here at Malden." He also adds that "this group of seniors have excelled in the classroom and in their community."
Senior Ellie Cordero received a scholarship from the Malden Education Association (MEA) and another award recognizing her hard work as stage manager in Play Production. Cordero stated that "upon receiving [these awards], [she] was morally gratified and beyond proud of [her] classmates for all that they have achieved."
Jasnely Bautista received the Paul Famiglietti Memorial Scholarship, which honors the life of Mr. "Fam," a very influential MHS faculty member who passed away on Apr. 14, 2012 due to a motorcycle accident. Bautista expressed, "[She] cannot thank [the Famiglietti] family enough for all that they' have done for [her]." Bautista will begin college in the fall at Framingham State University, where she will take with her the memories and lessons she learned from her time with Mr. Famiglietti, who "[she holds] so dear to [her] heart."
After the whole MHS community grieved the loss of Julia Vanella, who passed away due to a car accident on Jan. 11, 2014, her family decided to create a scholarship as a way to honor her. The scholarship was given to some of Julia's closest friends. Gabrielle Silva, Devon Laudadio and Nicholas Hames received $2,000 each, Meghan Doherty received $9,600, and Aryzona MacDonald was given a MacBook from the scholarship. Hames, who will continue his education at the University of New Hampshire, expresses that "it meant the world to [him] that her family chose [him] to be one of the people to receive the scholarship."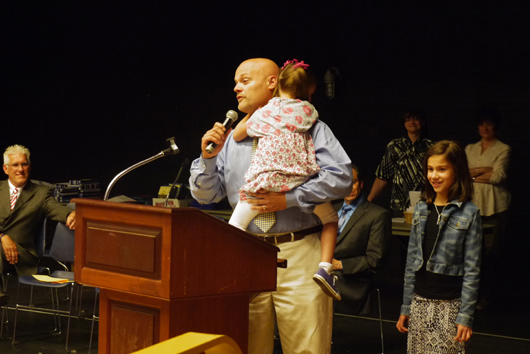 Julio Salazar was awarded $1,000 towards his college tuition from the Live Like Becca scholarship, a scholarship that honors a 2005 MHS graduate, Rebecca Knight, who passed away on June 4, 2014 while white water rafting. Because of Knight's thrilling and courageous lifestyle, a scholarship was created in honor of her for students who live life to the fullest, just as Knight had, with a love and appreciation for the countless opportunities life has to offer. Salazar expresses receiving the scholarship was an accomplishment because "[he] never thought [he] would get a scholarship or even get into a university." Next fall, Salazar will continue his education at the University of Massachusetts Dartmouth.
Laura Gomez received both a $300 scholarship from PepsiCo foundation and the Mahoney Scholarship for outstanding achievement in spanish by MHS Spanish teacher Mar Marjomaa. Gomez states that receiving the Mahoney scholarship gave her "a great feeling knowing that [her] hard work in spanish class, one of [her] favorites, paid off." She adds that "being handed it by Ms. Marjomaa made it feel more real and happy, because she was [her] teacher all four years." While Gomez continues her studies next year at Boston University, she is glad that MHS has provided her with these opportunities and recognition.
Alyssa Figueiredo states that she was "honored and blessed" to receive numerous scholarships on behalf of Malden Chamber of Commerce, MHS Alumni Association, Jean E. Dickie Memorial, Brunelli Family, Muriel Swimm First Baptist Church, Forestdale School Scholarship, and MHS Business Technology Department Achievement Award. Figueiredo expressed that "as the night was going on, hearing [her] name being called more than once was such a relief," as her "hard work is finally paying off." Figueiredo plans on continuing her education in the fall at Framingham State University, where she will be pursuing a double major in Elementary Education and Psychology.
Overall, there were 240 awards to over 100 seniors given throughout the night. Senior Tristar To stated that he was "extremely happy" to receive his awards, and he speaks for many of the seniors when he says this.
Being days away from walking the graduation stage, this award night allowed the seniors to bid their farewells to high school on a positive note, recognizing the tremendous amount of effort needed to succeed these past four years. The event ignited feelings of accomplishment and overwhelming pride as the seniors realized the end of their high school career is fast approaching.