Malden High School's girls tennis team has had great years, but this past season has been exceptional. Lead by  senior captains, Tammy Nguyen and Mandy Cheng; and, instead of Coach Diaz coaching alone, Patrice Duggan has joined the team to help coach.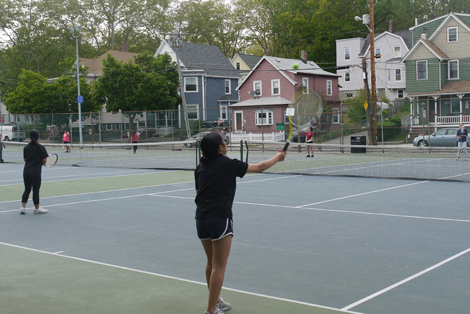 This year, Duggan started off her first year at MHS as a substitute English teacher for Jennifer Clapp, and her first year coaching girls tennis with a team that she believed "works cohesively together" and had a strong competitive attitude. She decided on tennis because she enjoys the sport and she plays it competitively herself.
Duggan claimed that throughout the entire season the team had continued to work as a team, improved their game both as a whole and individually. The aforementioned win against Medford was one of Duggan's favorite moments in the season because it was their first match and the girls played their best and won with a score of 5-0.
With the new season, new players joined the team. She wants each of the newer players to "keep playing, keep that competitive spirit and enjoy the game." Her team supports one another and they work together while at the same time, rooting for one another.
Nguyen strives to set a good example and become a role model for her teammates, which inspires her to continue on improving her game. She hopes to create a tighter bond with each player and "for everyone to be able to rely on each other and talk to each other." Nguyen wants each player to receive the attention they deserve to ensure each of them succeed in tennis and to make sure that they enjoy the sport.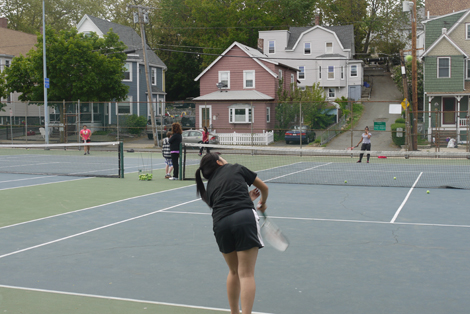 Even though they try their hardest on besting all of their competitors, they also try their hardest to gain high academic achievements. "[The players] not only worry about tennis but on their education. I see how dedicated that the tennis girls are when it comes to education" stated Nguyen.
Unlike last year's season, communication off of the court is not an issue. Nguyen wants the younger players on the team to never give up because each and every one of them possess a specific talent which will become stronger as time progresses. States are important to every sports team, in order to advance in the game, especially girls tennis, but Nguyen believes that " tennis is also supposed to be a fun sport that [everyone] can enjoy," not something very competitive.
Nguyen also declares tennis a sport that is filled with "adrenaline and excitement whenever [she] plays." As a captain should, she enjoys watching her fellow teammates enjoying each others company and feeling confident about themselves when they serve and hit.
Cheng believed that the new and old players were able to communicate with each other well and have been able to adapt to the changes that came with coach Duggan. Cheng explains that with the loss of five varsity players, the team suffered. However, they managed to come back with recently added players in their roster and a renewed love for the game.
Cheng had hopes that she would improve as an individual throughout the entire season. She also recognizes that each player shows determination when keeping their athletics and their education balanced out, despite all the homework and practices they usually have.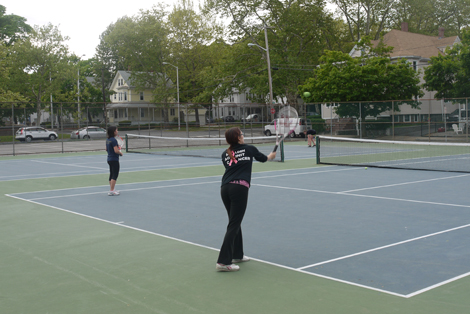 At the end of the season, the team had come to a record of nine wins to six losses. Their wins include two 4-1 wins against Medford, two 3-2 wins against Lawrence, a 3-2 and a 4-1 win against Everett, a 4-1 and a 5-0 win against Somerville, and a 5-0 win against Revere The last game of the season was on May 22 against Lawrence, with a 3-2 win by Malden. The Girls Tennis team remains undefeated in the Greater Boston League.
With the seniors graduating, the team hopes that next year they'll remain undefeated with their new captains and that they will perform just as well, if not better, than this season.