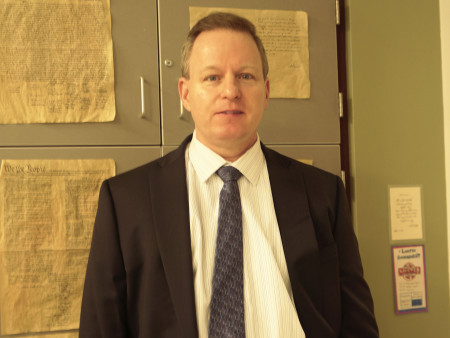 After spending many years educating overseas, Malden High School warmly welcomes Stephen d'Entremont as a new addition to the ESL department.  Born in Winthrop, Massachusetts and raised in Brookline Village, Massachusetts, d'Entremont attended University of Massachusetts Amherst where he studied journalism and history.  
Shortly after graduating in 1992, d'Entremont packed his belongings and moved to Athens, Greece, and later to Saudi Arabia. He has taught ESL, which stands for "English as a Second Language," since graduating. He moved back to Boston a few years ago to be close to home. Besides traveling, he also has a passion for drawing. Many of his pieces can be seen hanging in his classroom.
This year, d'Entremont is teaching three different classes: sheltered history, ESL one, and ESL one and a half.  Many students may be unfamiliar with the courses d'Entremont teaches. Sheltered history is a class designed specifically for students immigrating from other countries who instead of learning United States history, learned their native country's history.  At the same time, these students are trying to learn  the English language, a difficult task d'Entremont says many take for granted.
There are so many differences between the English language compared to others, such as the way "[English speakers] write from left to right" but "[immigrants] might write from right to left, or top to bottom" as d'Entremont points out.
ESL one and ESL one and half are also designed to help foreign students learn the English language. Students often enroll at MHS throughout the year, causing the ESL department to have established various levels to suit each student's individual needs depending on skill level.  MHS is known for being the most diverse high school in Massachusetts, and part of the reason why is because of the strong foundation the ESL department has built, giving foreign students the opportunity to learn.
One of d'Entremont's goals in the classroom, along with the rest of his department, is to "acclimate [his students] to how things are done here as quickly as possible," and show them "how [they] can be successful here."  Since he has worked with students from all over the world, he has first hand experience to help them succeed not only in school, but to assimilate into Malden's culture and America's as a whole.
Outside of his classes, he simply hopes to become acquainted with more of his co-workers, and figure out where everything is located in the school. He compared MHS to drawing because "a French painter always said [a person] should break things up into geometric shapes. So if [he is] going to draw the door, it is a rectangle" and that "simplifies things" similar to learning another language.   
d'Entremont feels that starting out "modestly, and expanding from there" is the best approach in any situation, but especially in a school as big as MHS. d'Entremont is excited to contribute to the ESL department and the school overall.