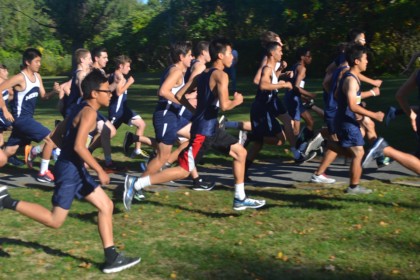 The Malden High School boys cross country has had victories, made memories as well as lasting friendships. Last year's team achieved plenty, having not only won the Greater Boston League championship but also, as Coach David Londino puts it, "breaking the drought" by winning half of all their meets.
Although last season was successful, all the current members of the team agree that there is room for improvement. Senior Steven Ao believes that with hard work and effort, improving from last season is definitely a possibility, explaining that "[their] team's top runners are all around each other's range in running ability," meaning that they could push each other on more easily to progress in the GBL and improve individually as well. Ao confessed, "This was not the case during last year's season of cross country, where there was more of a gap in running ability between the guys." Ao concluded that that the team is "more well-rounded and it helps that there are a lot less injuries, compared to last year."
When asked what helps the team to work so well together, senior James Ao replied, "The most important thing that helps [them] is that [they] are very competitive, even with each other, and they do not like anyone getting too far away from [them]." As a result, this helps to improve the strength of the team overall.
This season the MHS boys cross country team hopes to decrease their average running times, but their primary goal for this and every season is to bring home yet another GBL title. Sophomore Temesgen Tsige commented that being a GBL champion in a prior year makes "it [even more] important that the team continues to work hard and put all of its effort to keep the title that [they have] all been working so hard for."
As with anything, it is impossible to reach a goal without motivation, drive, and most importantly, support. When it comes to cross country it is impossible for an individual to reach a goal without his teammates. Going to the practices everyday allows the runners to realize the importance of a strong relationship between teammates is for the sport. The team encourages and pushes one another to work harder, improve and stay on task, all the while running towards a common goal; winning.  
As a testament to teamwork, when asked what drives him to work hard and improve as a runner, Steven Ao explained that "[his] teammates [are what] drives [him] to work hard as a runner." He added, "Not one single person on the team can win a race by themselves, due to [their] teammates being so important to help win the meets." The team encourages Ao, making him unable to "let [his] team down and try as best as possible to secure the placements [they] need.
MHS cannot wait for what the boys cross country team makes of their season this fall.