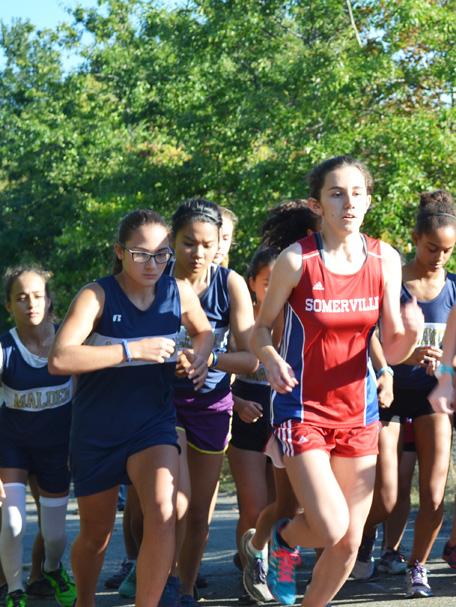 A vital member of both the indoor and outdoor track teams during her freshman year, now-sophomore Allie Russo decided to join the Malden High School cross country team this year. So while new to cross country, Russo is already a seasoned runner that contributes to the already talented group of cross country runners.
When asked what made her take on the fall season of running, she credits her love for running in general. Her freshman year experience racing paved a path of track for the young talent. Head cross country and track coach David Londino sees great potential and talent in Russo. Coaching her for indoor and outdoor track, Londino inspired her "to expand [upon] the running" skills that she had developed in her freshman year.
While this may be Russo's first year in cross country, the entire coaching staff and all of her teammates believe that she is potentially one of the best runners on the team. According to her teammates, she possesses great natural talent and is fierce a competitor at practice and meets. Russo is incredibly hard working, very enthusiastic, and dedicated to running.
Londino praised Russo, confessing that she "has been one of [the team's] best additions this year and [he believes that] she has the ability to improve her game even more and make the All-State team." That is a high praise as making the All-State team requires one to be among the best performers at the state tournament.
Russo responded to her coaches praise, stating that "it seems a little bit crazy, but if [she] keeps on training, [she] believes it can be realistic goal of [hers] to come close to making [the All-State team]. Russo went on to add that the "high expectations and goals also add pressure since everyone is expecting great things from [her] and this is [just her] first year as a member of the cross country team.
After finishing her first meet, Russo described her mood to be "relieved" because even though "[she] was nervous going into the meet, [she] knew cross country valued endurance above all else." The  "first race made [her] more confident to perform well this season."
Russo expressed desire to continue running after high school and all throughout her life. She add that she "wants to continue to run because it is simple and something [one] can do all [their] life without a need for a team."