Malden High School's Fine Arts Department is known for showcasing their students elaborate artwork in The Blue and Gold Art Gallery that takes place yearly. With classes such as Studio, Digital Art, Foundations of Art and several more, it allows students to learn about art while creating their own pieces of artwork through self-portraits, paintings, drawings and more. Now, the department is experimenting with a new type of show, one that showcases student artwork along the floor of the hallways of Holland House near the three art rooms. This is the first time that MHS is having a Art Walk and Sale.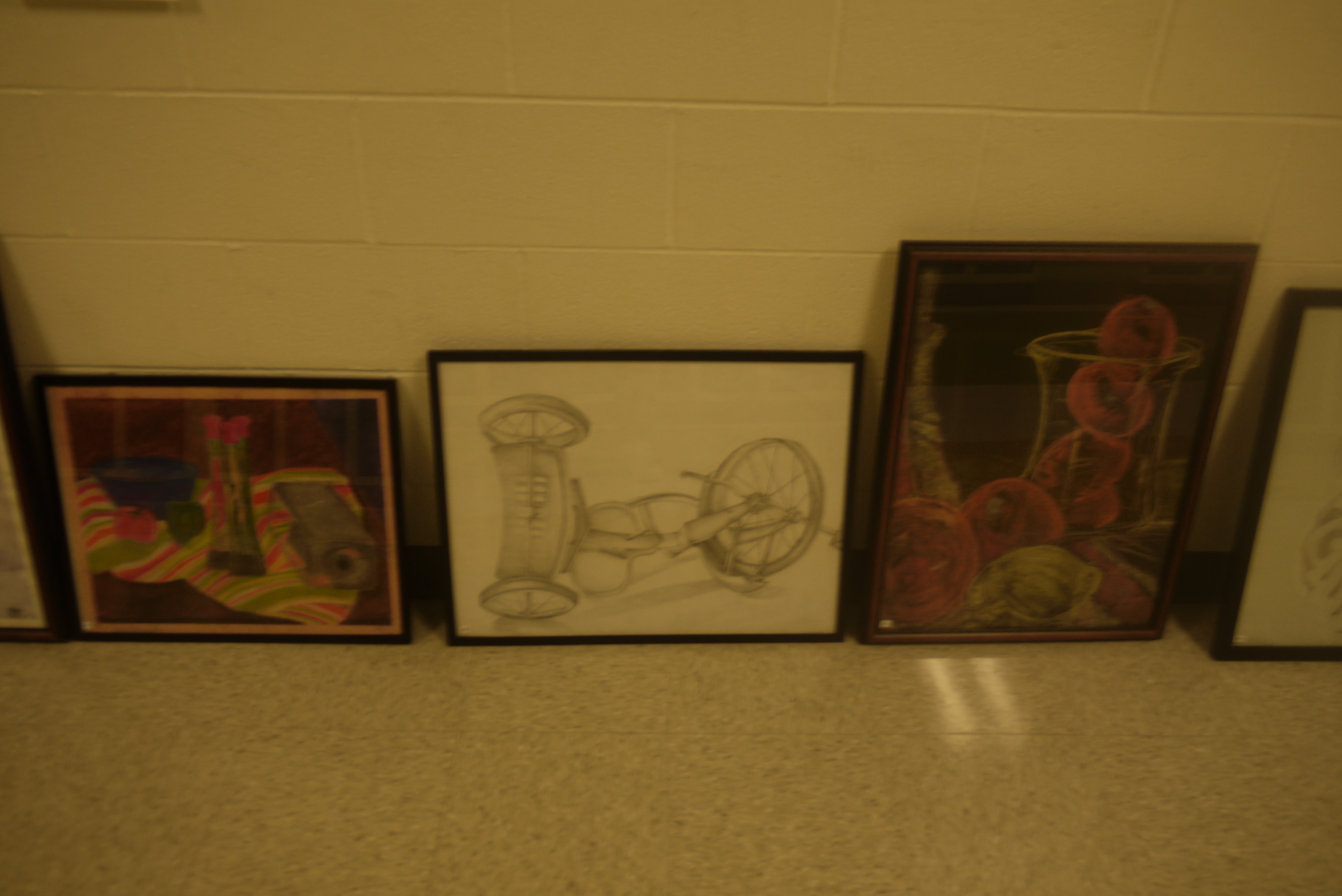 Art Teacher Mary Ann Seager claims that the inspiration for the walk/sale came from the departments summer show, which is was exhibited for the first time this summer. Seager says that the summer art show was a "fundraiser for abandoned artwork. We wanted to sell some of the artwork to make some money for scholarships and we made a little bit of money." Seager thought that "maybe teachers would like to do it, [since] they are not around in the summer time. So that's why we decided to do an art walk." All of the artwork in the Art Walk was "originally in a Blue and Gold gallery, and was chosen because of its quality and is previous work that students never took home. We decided instead of having it all on one shelf and continuously calling kids to get their work that was three to five years old, we decided that we'd like to share it to the public. Seager admits that it's nice because "selling students art work makes me think about kids I've had in the past, and I wonder what they're doing now. It's nice that I can put these amazing pieces of art out in the hallway, and it;s awesome how all of these kids are respectful of it. Seager feels really "proud of the students work, proud of students, proud of the older art teachers that help make students talents shine".
All of the work in the Art Walk were completed as assignments in Art classes by students who graduated years ago and are pieces that have been left behind. Most of them move on to art school and colleges faraway, and "the art they make in these new places become more important to them than their high school work, which I believe are still important" says Seager. She adds that "I don't want to put them in the dumpster because they're so beautiful. There are various types of artwork laid out on the floor on the hallway, and prices range from ten dollars to forty dollars. The money from this sale, similar to the summer show, will go towards scholarships. They will also contribute to senior gifts, as Seager likes to "give some of the seniors a parting gift that are well-deserved". And frames for the artwork displayed in The Blue and Gold Gallery. The art department wants to make this year's gallery special because it's the last one for Mr. Brown as principal, and they want to try to do some extra things to make it stand out. Seager claims that The Art Walk is a Walk and not just a sale "to make it easier for the teachers to see it. Sometimes I put artwork out on boxes, carriages or tables. But I wanted them to be able to walk by anytime during the day if they wanted to look at it to just enjoy it, and if they wanted to buy something, they could."
The Art Walk as well as the Summer Show and The Blue and Gold Art Gallery are very important to students, who help the art teachers prepare for the shows by "picking out the art, cleaning the frames and get them all ready for the shows while helping to host the shows" Senior Haley Mulligan says that her and her fellow art students "took the leftover artwork and made sure the frames weren't cracked, cleaned the glass, put tape on the back on the frames to ensure they could be hung up and they organized all of the artwork based on size and laid it out". Mulligan believes that it is "nice to have student artwork up on display since it honors and acknowledges what they have done." Mulligan, an art student herself, understands that the process of creating art is "hard work, and requires a lot of commitment because you really get into your pieces. The art shows allow the public to recognize how much hard work and time was put into the pieces".
While this is the first Art Walk and Sale ever at MHS, the commitment and constant new ideas of the Fine Arts Departments ensures that there will be many more to come. Students and Faculty alike are enamored by students artwork and it serves as a piece of certain students to leave behind once they have moved on in their lives. Passed student artwork can also inspire and encourage new students and even staff members to give art a try and to buy some to keep in their homes. It also defines the value of student artwork, and that they are not pieces that can just be thrown away. Even if you lose the ability to recognize the significance of art, that art could mean something special to someone else.