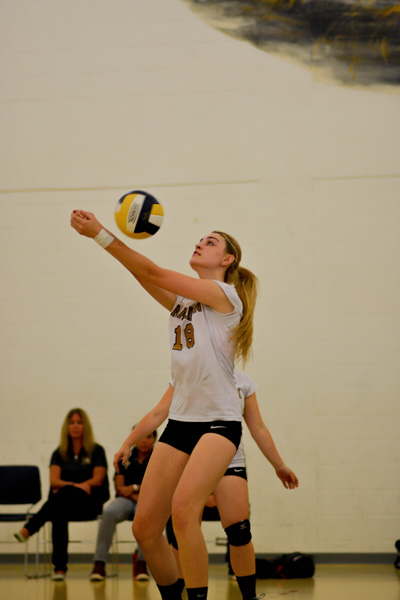 The Malden High School girls varsity volleyball team continues to add onto their success this season after a close match up against the Salem High School Witches on Oct. 23, 2015. After five long matches, Malden came out victorious winning 3 to 2. Throughout the entire game, it was neck and neck with just a few points separating the teams. The Malden girls seemed to be evenly matched as both teams were loud and determined, neither would be going down without a fight.
The first match led to a clear Malden victory. Senior Victoria Tortora led the way in points earning six of the 25 on her own. The rest of the girls followed, taking advantage of every Salem blunder. The match did not last long and the girls soon won 25 to 6.
As soon as the second match began, it seemed as though a different, more determined Salem team was taking the floor. Malden took the lead 5 to 1, but the Witches swept in to catch up with a score of 5 to 4. The whole match was a battle back and forth, but Salem finally took the lead in the final minutes with a score of 26 to 25. They they eventually went on to win the set 27 to 25.  
The coaching on the Salem side was much more aggressive than on the Malden side. Coach Dan Jurkowski stayed mostly quiet only shouting out encouraging pointers to help his girls focus on the next play. This coaching style seemed to have a positive impact on the girls during the third set as Malden went on to win 25 to 13. As the fourth set approached, the Malden girls were leading the series 2 to 1, but Malden fell behind within the beginning minutes of the set. They finally caught up to their opponents, tying the score 15 to 15, but it did not take long for the Witches to take back the lead and finally win the set 25 to 21.
Malden and Salem were tied 2-2 in the series going into the final deciding set. The energy and determination demonstrated on the Malden side led to a clear victory in the final match. Malden went on to win this set 15 to 4, meaning they won the match with a 3 to 2 score overall. The willpower displayed by the girls in this match showed one of the many reasons behind the successful season. The girls now have a winning record of 14-3. Senior Sabrina Harrath explained it is because the girls play "every game like it's [their] last." Having this attitude has led the girls to have one of the most successful volleyball seasons of all of Malden High history.
After the match against the Salem High Witches, the girls were a terrific 14-3 for the season. The girls have already become Greater Boston League champions and look forward to States.