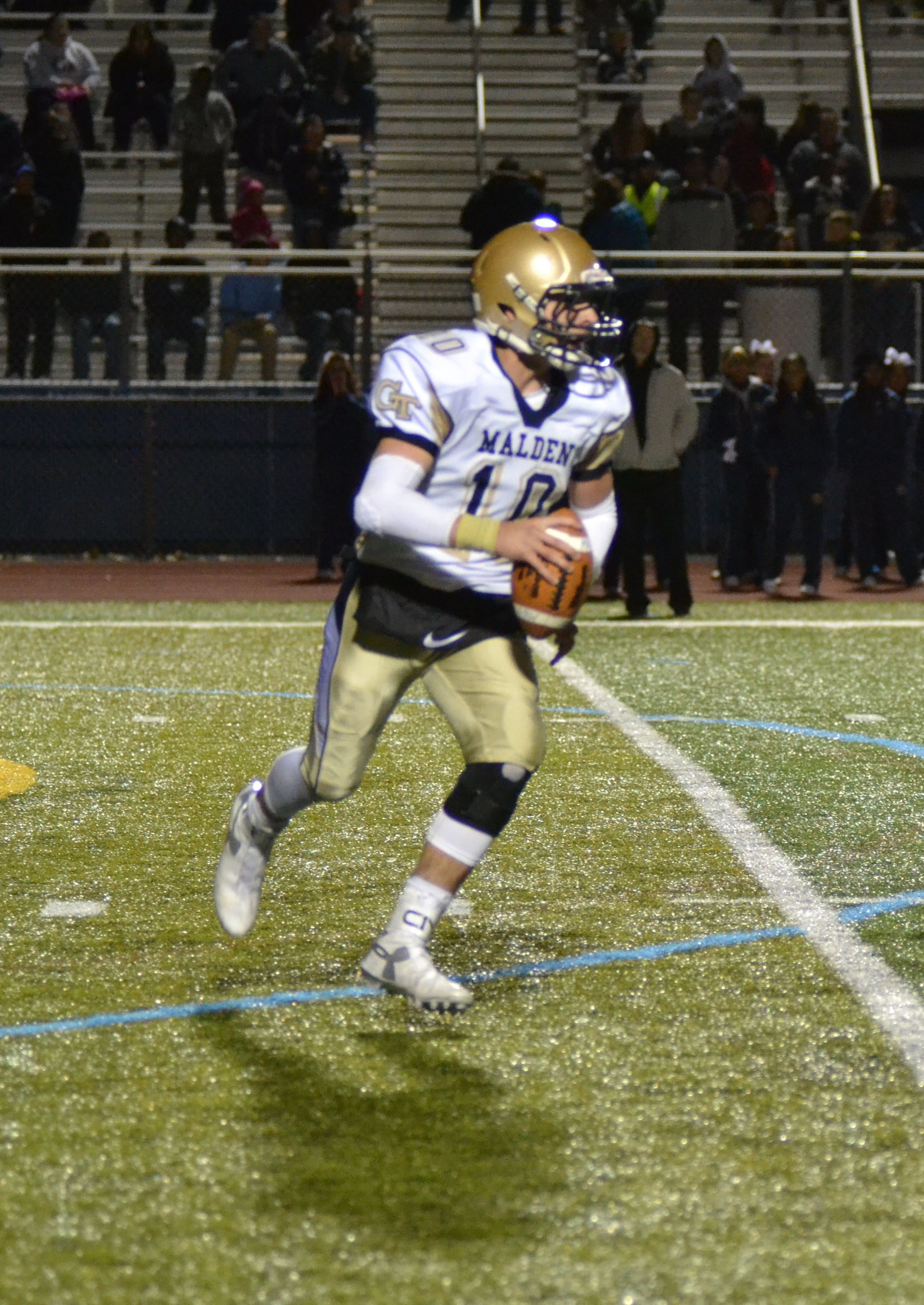 Sophomore Jared Martino has helped lead the Malden High School football team to the playoffs. Though only a sophomore, Martino has already accumulated 12 passing touchdowns this season. His success is attributed from his work ethic and skill set, something that he constantly works to improve throughout the year on and off the field.
Martino began his football career at 5 years old, playing for the Malden Pop Warner football program, and has since progressed through the ranks. He only began playing as a quarterback in middle school. Before that, he explained that he was "always a running back and a linebacker and for two years [he] was even an offensive lineman".
He accredits coach Martinez for teaching him the duties of a quarterback. The biggest lesson he learned about being a quarterback was that "[more than throwing] the ball, you have to be strong mentally and physically, and be able to lead the other 10 players in the huddle."
Football is a family tradition for the Martino family. His older brother, Jake Martino who graduated from MHS in 2013, was a starting quarterback for the football team. His father, Joe Martino, is currently the the Golden Tornadoes' junior varsity football coach and co-offensive coordinator for the varsity football team. Martino views his father as his biggest motivator in his life since he "pushes [him] to be the best all the time because he sees the potential [he] has".
Football isn't all that comprises Martino's skillset though, as he is also an avid baseball player. Last year he started at every position on the diamond besides first base. During the football offseason, Martino plays baseball for the highly competitive East Cobb Baseball New England team. From January to August, Martino plays in tournaments and showcases fighting for the attention of scouts from colleges and pro teams while on the East Cobb team. Martino mentioned that playing for East Cobb has taught him that hard work yields success. "No college wants a talented kid who doesn't work hard, you have to have the full package," Martino expressed. He hopes to be able to play both baseball and football while in college.
This is just the start to Martino's athletic career at Malden High School and there is sure promise that he will continue to be a star athlete throughout his years at MHS.