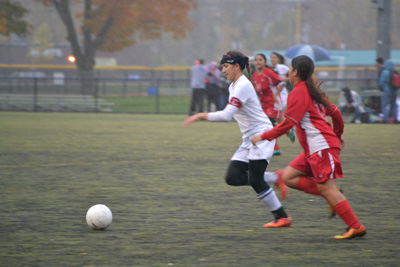 The Malden High School girls soccer team's season has finally come to a close. Though the girls record stands at 6-8, it does not undermine the success of the team. Thanks to the leadership from senior captains and the seniors in general along with the spectacular plays made by the players from all grade levels, the team was able to have a successful season.
The team started and ended their season with the same goal that they always have—to win the Greater Boston League title and qualify for the Massachusetts Interscholastic Athletic Association state tournament. Though the girls did not meet these specific goals, they still had a fantastic season. They fought and won against competitive teams that they had not beat in the past. They proved Malden's strength and perseverance to the GBL.
In every game, the team fought hard to the final whistle; every game they played was filled with blood, sweat and tears. Senior captain Jacqueline Smith stated that "[she] believed the season went really well and [that they] played the best [they] have ever played in [her] entire four years of high school, even if [their] record may not reflect that." With junior Felicia Lombardi scoring in almost every game, including several multi-goal games, and Smith with numerous assists and two goals herself, the girls' skill and a drive accounted for their wins.
Senior captains Smith, Alexandra Lombardi, Kristina Gilbert, Sabrina Barreto, and Blue & Gold Editor in-Chief Lucia Quesada-Nylen led the team throughout the offseason until the end of the season. Smith, Lombardi, and Gilbert gave the Golden Tornadoes the offensive spike it needed late in games to create something magical, while Baretto and Quesada Nylen held down the backfield and got opposing offenses on their heels. Their defense allowed for the offensive players on the team, including juniors Felicia Lombardi, Cleverina Cong, and senior Zeina Greige, to have chances to score. The whole team had a successful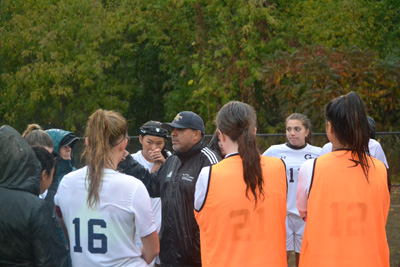 Jesaias Benitez.
season and are proud of their accomplishments.
Hopefully for the years to follow, the team can make it to the MIAA State Tournament and become GBL champions. With the strength of soccer growing in Malden, the girls will certainly have outstanding seasons for years to come. Along with the upcoming underclassmen, the team is poised to take on and beat every opponent they face.
Regardless of the record, the seasons to come certainly look bright, and MHS predicts nothing but greatness for its girls soccer team.