The 2014 Malden High School varsity Volleyball team made history last year when they won the Greater Boston League title along with co-champs Medford. Now this year the 2015 team has reached yet another milestone by becoming the sole GBL champions and completely sweeping the league. This has been the first time in MHS history for the volleyball team to win the GBL on their own. "They weren't satisfied sharing the league title with Medford last season, and they were determined to win it outright this year," explained first year coach Dan Jurkowski.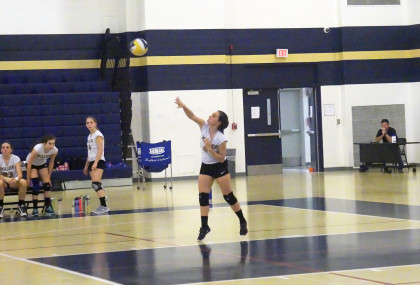 The final match up in the GBL that determined whether the girls were the sole champions was an away game against Medford. This was a spot the girls knew a bit too well as they were in the same position as last year. The team ended up losing last year to Medford on their home court. Senior captain Brianna Grant confessed that "[she] was nervous that was going to happen again because Medford is a tough team, and they wanted to be GBL champs as well."  Though, "it was also a really great feeling because [Grant] and the entire team all knew it was possible and were excited to play in a competitive game with Medford" Grant added.
After their win in Medford, the girls patiently awaited to hear news about the game between Somerville and Medford. If Medford won the game, then Malden would become solo champions whether they won their next GBL game or not. When Medford won this game, Malden would become the sole GBL champs.
This did not deter the team's efforts from sweeping the entire GBL and beating Everett. After giving it their all against Everett one last time, the girls came out victorious. "Knowing that [the team is] 6-0 in the GBL makes [Grant] feel so proud to be apart of such a great team with such amazing teammates and coaches."
"Winning the GBL outright for the first time is a testament to the hard work and dedication put in by [their] seniors over the last few years," mentioned Coach Jurkowski. Senior Pema Kunsal shared  that it was a big relief for the team to win their final GBL. "All of [them] worked so hard to be where [they're] at now and [she] felt that [they] deserved this title," expressed Kunsal.
Athletic Director Daniel Keefe is also proud of the volleyball team and their season, explaining that "the girls sweep in the GBL was awesome." The girl's varsity volleyball program is only some 11 to 12 years old and this season has been successful which promises a bright future for teams to come. Keefe is impressed with the girls this year because their schedule was not a "pushover schedule" yet they still were able to win most of their matches.
MHS congratulates its new GBL champion team and wishes it all the best in forthcoming seasons.