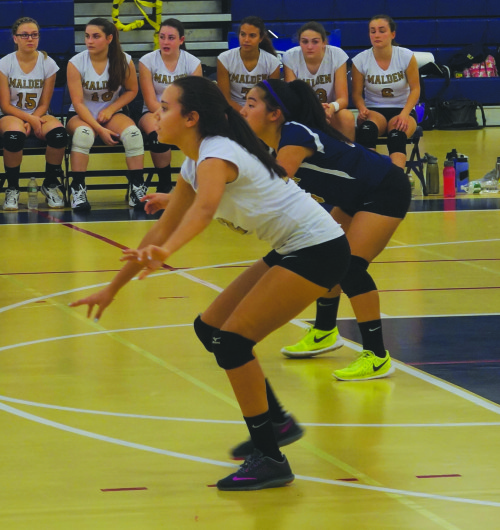 How long have you been playing volleyball?
I've been playing volleyball since middle school, 7th grade.
How long have you been on varsity?
I've been on varsity since my junior year.
What made you decide to play for the high school?
I've always generally loved the sport and I've played beach volleyball when I was younger with my dad so he encouraged me into playing it in middle school. Ever since I've joined in middle school I've been in love with the sport.
What is your favorite position to play?
Definitely outside hitter. I love being able to transition from the front row to the back row in one set.
Which team is the most competitive to face off against?
Haverhill. Although we lost one game against them this year they were probably the most challenging ones in the beginning of the season. I remember entering their court and being ready to play like we've never played before and that's exactly what we did because we ended up beating them in 5 sets, 3-2.
What sets the volleyball team apart from every other team at Malden High?
We're close in and out of the court. We stick together as a team and play as a team. We motivate each other and our bus rides are probably the only bus rides that have strobe lights after getting that win.
What is the most challenging thing about volleyball?
Working as a team ALL THE TIME. A lot of sports are about individual accomplishments, but volleyball is definitely not one of these sports. On the court you need to be able to trust every single teammate and communicate with them on the court.
What is your favorite thing about volleyball?
My favorite thing about volleyball would definitely have to be the joy you get after getting a perfect pass to the setter and a setter setting up the hitter to end the play with a kill.
What were your goals for the team this season? What were your personal goals?
This season my goals for our team were to become GBL champs and eventually make it to states and make it to the semi-finals. We sweeped the GBL's 6-0 and made it to states with the best record known to malden high (16-4), but we were eliminated the first round of states.
My personal goals include increasing my skill level on hitting and become a better passer. I personally think I achieved both these goals for the most part, being a starter for each game.
Do you have any motivations or inspirations?
One of my biggest motivations was definitely my dad. He wasn't the coach, but everyone on my team can tell you he certainly acted like one. I'm proud to say he motivated me to do better each set.
What advice can you give to the newer volleyball team members or newer athletes in general?
Believe in yourself. If you don't have that self-motivation then how would you expect others to believe in you. You will make mistakes. Mistakes are common and not everyone is perfect. You can't hold on to that one mistake because there are 25 points in each set. "Move onto the next point", says Coach Dan.
What was your opinion on this years season?
Going into this year I was nervous because I wanted it to be the best season yet and we had a new coach. However, surprisingly he caught the hang of our team really quick and him and Ms. Diaz were able to coach us till the very end of our season.  Of course there were plays that I wish we could've redone and teams that I think we deserved to win and we didn't have our head in the game. Despite our record with the 4 losses, I believe if we were to play again our record could be/should've been 18-2. In all the season was great and I love all the girls.
Do you plan on continuing to play volleyball after high school?
Yes, I do continue playing volleyball not sure if I would want to play for the college team itself or a club, but I definitely will continue playing.