This year the girls varsity volleyball team had one of its most successful seasons in all of Malden High School's history. The hard work of the nine seniors who have dedicated a substantial amount of their time to the volleyball program over the years finally paid off as they ended their final season with a record of 16-4, including a perfect record of 6-0 in the Greater Boston League.
The two team goals for the season were both met which were to win more games than last year and win the GBL championship. The girls reached both these goals with ease, doubling the amount of wins they had last season and sweeping the GBL. The team won the GBL for back-to-back years, last year being co-champs with Medford.
Last year's volleyball team was the first in MHS history to win the GBL. Now, this year, the girls continued to make history, as it was the first time for the girls volleyball team to completely sweep the GBL and become the sole champions of the league.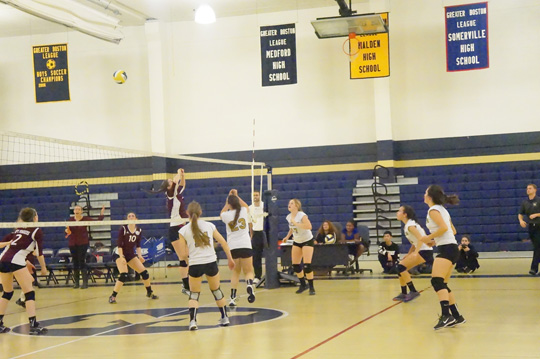 The team had an innumerable amount of strengths this season, among them were consistency and experience. The girls never lost back-to-back games and rarely lost back-to-back sets. Such consistency was vital for their success the 2015 season. Communication was another skill that the team worked on every day in practice. Their constant improvement in their communication continually helped to improve the girls' game play and push them farther and farther to their goals.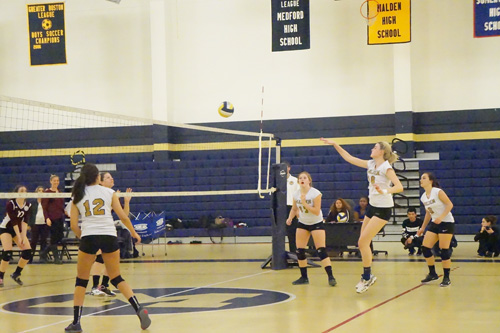 The girl's talent, motivation and experience was evident throughout the whole season according to head coach Dan Jurkowski. He explained "as a first year coach, [he] couldn't have asked for a better group of girls. They knew what they wanted to accomplish this year, and they were willing to put in the time and effort needed to do so."
Along with winning the GBL, the girls qualified for the state tournament, earning the #4 seed. The team faced #13 seed team Arlington High School was their first opponent of the playoffs. The girls fought hard against the Arlington Spy Ponders, though they were not able to win a set. Each set was fiercely played for by both sides, but the Golden Tornadoes were the ones to meet the end of their incredible season.
Regardless of the results in the playoffs, MHS is truly proud of its girls. The girls volleyball team's success during the regular season and its GBL championship win for the second time in a row has brought great pride to the school. MHS looks forward to the future of the team, and bids a fond farewell to the seniors who had lead the team to such a great season, as they will graduate at the end of the school year.