The senior and juniors girls of Malden High School gave it their all during this year's annual Powderpuff game. The girls spent hours and hours of their time to practice plays and learn their positions from their coaches. The game was held on November 25th, 2015 at MacDonald Stadium.
The game was very intense, as in the beginning, the seniors were the definite favorite to win, as historically, the game is always won by the seniors. Both sides fought hard, with both sides of the ball making many key plays. The defensive side of the teams were especially notable as several interceptions were made during the game. The offense of seniors and juniors were very strong as well, as both were able to drive the ball down the field with great success.
The seniors were coached by several senior members of the MHS football team. Senior Robert Green expressed how being a coach has allowed him to "take what [he has] learned [his] whole life and [teach that] to other people." Green goes on to confess that being able to do so, especially when "[he] saw them succeed, it is just the best feeling [one] can honestly have."
As the powderpuff coaches are also players themselves, senior Djorggenson Exilhomme adds to Green's sentiments, saying how powderpuff has allowed them "to know how [their own football] coaches go through [the process]." Exilhomme akins powderpuff to football as "when [they] call a play, sometimes it works, sometimes it doesn't, but [still, they] just have to do their best to making things work in a positive way."
When looking back at the game, senior Gillian Willcox admitted how "[she] was nervous," because during the game, while "looking at the crowd, [she] saw a [lot of] people, [and it] was really scary." This gave her a better appreciation for the football team as she now better imagine "how [the boys] feel [as they] have full bleachers [during their games]."
Seniors Kelsey Gordon and Jacqueline Smith explained that their inspiration for joining powderpuff was because "it is [their] senior year [and] you have to [experience] everything." Willcox elaborated, stating that "[one does not] end [his] high school [career] thinking 'Oh, I wish I did this. I wish I did that." Gordon and Smith agree that it is best to experience all that they can, so as not to end up with regrets in the end.
The junior girls were taught how to play by junior members of the MHS football team. Junior Joshua Simon echoed the words of Green, saying how being a coach "is a fun experience to get out there and show what [they have] known, since [they] have been playing [football] for forever." Junior Pedro Lugo explained how since "there is no [official] girls football team, having powderpuff, as it is close to having an [actual] organized [girls team, is great]."
Junior Deyshawn Boucicault remarked how "football is not just a 'man's sport'; it's also a girls sport." Fellow junior coach and MHS football player Andy Tham noted that "anybody can play [football], and [that] everybody should play it," a sentiment the other coaches honestly agree with.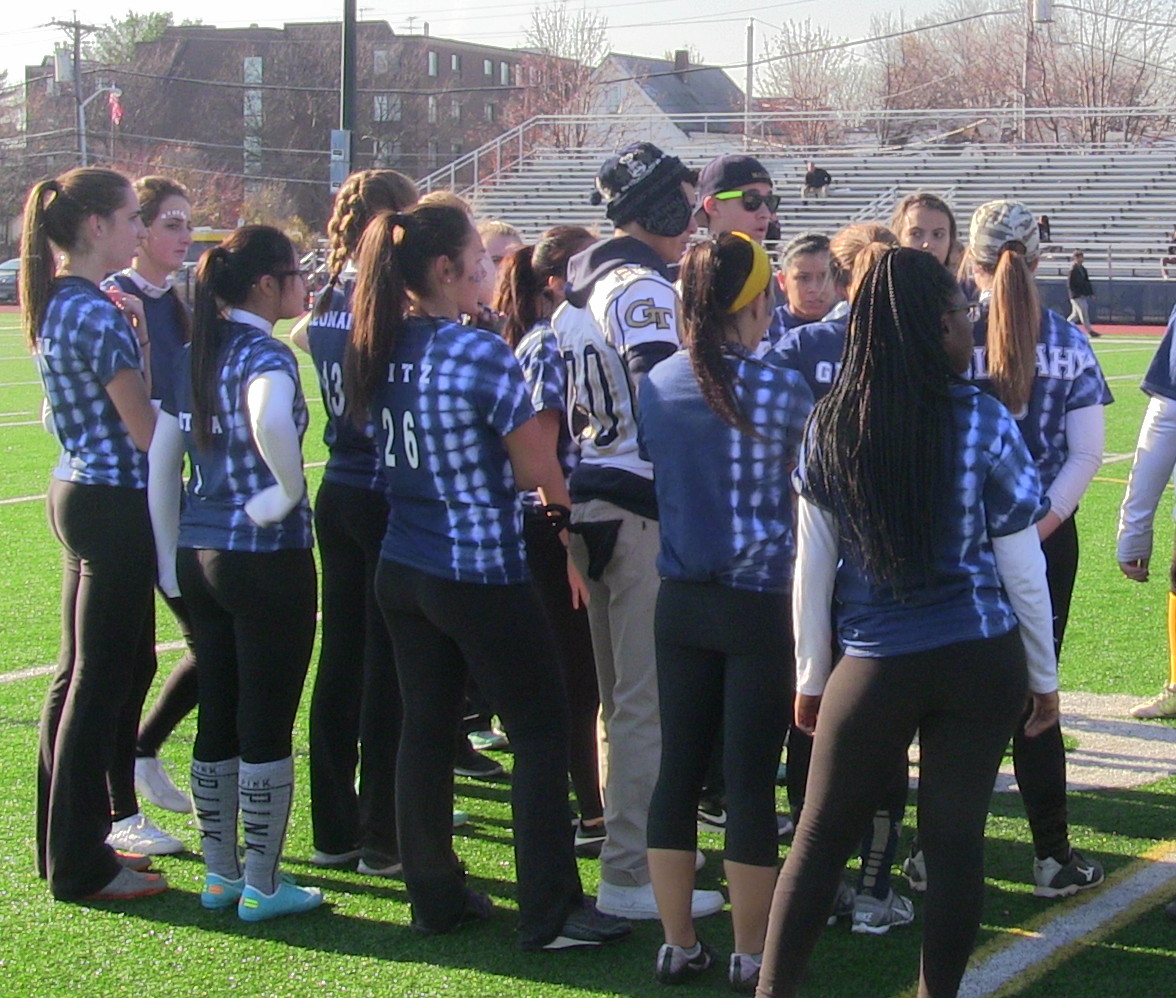 For the junior girls, this was their first time playing powderpuff. Junior Felicia Lombardi expressed that "football is definitely harder than it looks," because on paper, the plays seemed manageable, but once the ball was snapped, things quickly became easier said than done. For junior Lucia Ramos learning and playing the game was also difficult, because, "it is a very physical game and it's something new, [though], it was a good experience." After having played powderpuff, Lombardi explains how it gave the girls "more respect for football."
Thanks to powderpuff, the girls were able to play with people they have never met before and already knew. Thus, new friendships and teamwork skills were formed, and old ones solidified. The juniors this year were able to make history, as through their hard work and determination, they were able to snag the 2nd ever tie in MHS powderpuff history.
In every powderpuff game, both sides always want to win and push themselves. While MHS always enjoys seeing the competitive spirits of the players, MHS, above all else, always hopes its girls enjoy themselves and looks forward to future powderpuff games in the years to come.