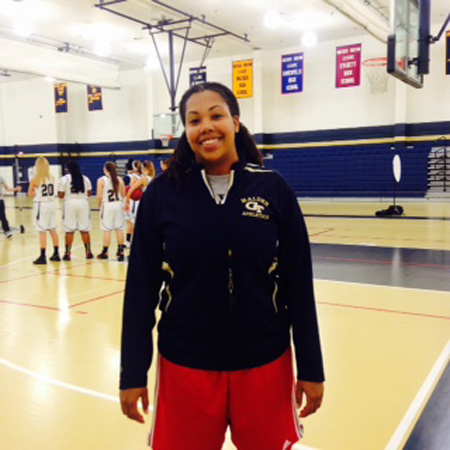 The girls varsity basketball coach, Lydia Coverdale, is entering her fourth year of coaching. She discovered her love for basketball in middle school and played while attending Malden High School. As a former student-athlete, she learned important lessons about life and had the opportunity to create lasting friendships with her teammates.
During her time at MHS, Coverdale played on the basketball team for three years. The team she was on won a Greater Boston League Title and made history as the first women in Malden High School to score 1,000 points. Coverdale later went on to attend the University of Massachusetts Boston where she majored in psychology and sociology, which has helped her in coaching. 
After college, Coverdale wanted to share her passion for the game with the next generation of female basketball players and so she decided to become a coach. She believes that "learning to play a sport and being part of a team is important for self confidence, camaraderie, and teaches you to understand the competitive nature of the world we live in." Her very first coaching experience was with third graders for the Malden Youth basketball program. From that moment on, Coverdale knew she wanted to be more involved.
Principal Dana Brown and Malden Recreation Director Joe Levine were her coaches when she played on the MHS team. Coverdale thought it was important to coach in Malden so she could give back to her community. Both Brown and Levine were her motivation to join the girls basketball program and contribute to Malden.
Her favorite part about coaching is teaching the players to cooperate together and try their best on and off the court. When working with the girls, she can see that they are determined and focused which is what she loves the most. Seeing how they work as a team and the support they have for each other this season brings excitement to Coverdale most of all. The team is focusing on both their defensive and offensive skills as well as becoming more aggressive.
Coverdale does not want to limit her influence to sports but for it to transcend beyond basketball so that the girls will be good people, not solely good athletes. All in all, she wants to see them become "responsible young women, who stay motivated to improve in all that they do."