BY TOBY PITAN & SARA ZAKARIA
Last year, the girls cross country team successfully reached their goal of winning the Greater Boston League (GBL) title for the fifth time in a row, while having an impressive undefeated season. This year, they hit the ground running, hard, with the same goals in mind.
According to fellow team members juniors Jasmine Gray and Alexandra Russo, a goal for the team is winning the GBL title and having a season full of wins, since this will be their last season competing for the GBL.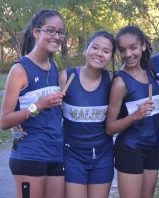 Gray has been on the team for three years, while Alexandra has been on the team for two years. The team competed in only one official meet this season, having a win against Everett. MHS has also won in a GBL open, coming out on top.
The girls are already starting to form a tight, family like bond with each other, especially with the newcomers, freshmen, and returning members. Gray stated "everyone got along really well, which is a good sign. The freshmen seem to be hardworking and respectful. Russo added that [they] improved a lot after only a month."
Another goal of the team is that the team should work on improving mentality. "When teammates get injured, people tend to fall into a negative mindset and become doubtful about [their] ability to win. On top of that, [the negativity affects others which makes them think] it's okay for them to do the same, or they feel let down in the sense that they're putting in all their effort into a workout, and their teammates are just sitting back and watching," Gray said.
Gray also said the team needed to continue having a positive attitude, even when the season starts to get a rough, they get determination to continue being motivated to keep working hard, especially when a teammate is injured. Something the team could work on,Russo said was trying to be on time to meets and practices.
The girls are confident they can have another great season, and hold the champion title again for the last time. Each team member has a goal for themselves, whether it's to out run another player, running a 21 minute 5k run, running a personal record, or beating their best time. And they are determined to meet their goals.
As for the boys cross country team, senior Brian Tran said that his personal goal for the upcoming season is to break his 5K record. Tran also stated that he would "like for the team to do well with [him], [it's] just a good picture for [him]". He is most looking forward to Invitationals and the feeling of racing against his opponents.
As for for running alongside his teammates, Tran said that "it feels like home, like a family". He's eager to see his team members at practice everyday as well as running with them.
The boys cross country team is entering their season with "a new identity," said Coach David Londino. Londino stated that he's most looking forward to what the team becomes this season. Londino says that other teams, such as Everett, Medford, and Somerville have "improved a lot," and Malden lost a few key seniors, so he says it will be fun to watch this year's members step up to the plate and get the job done.
Londino and MHS looks forward to success in the league, and some individual achievements at States and beyond.