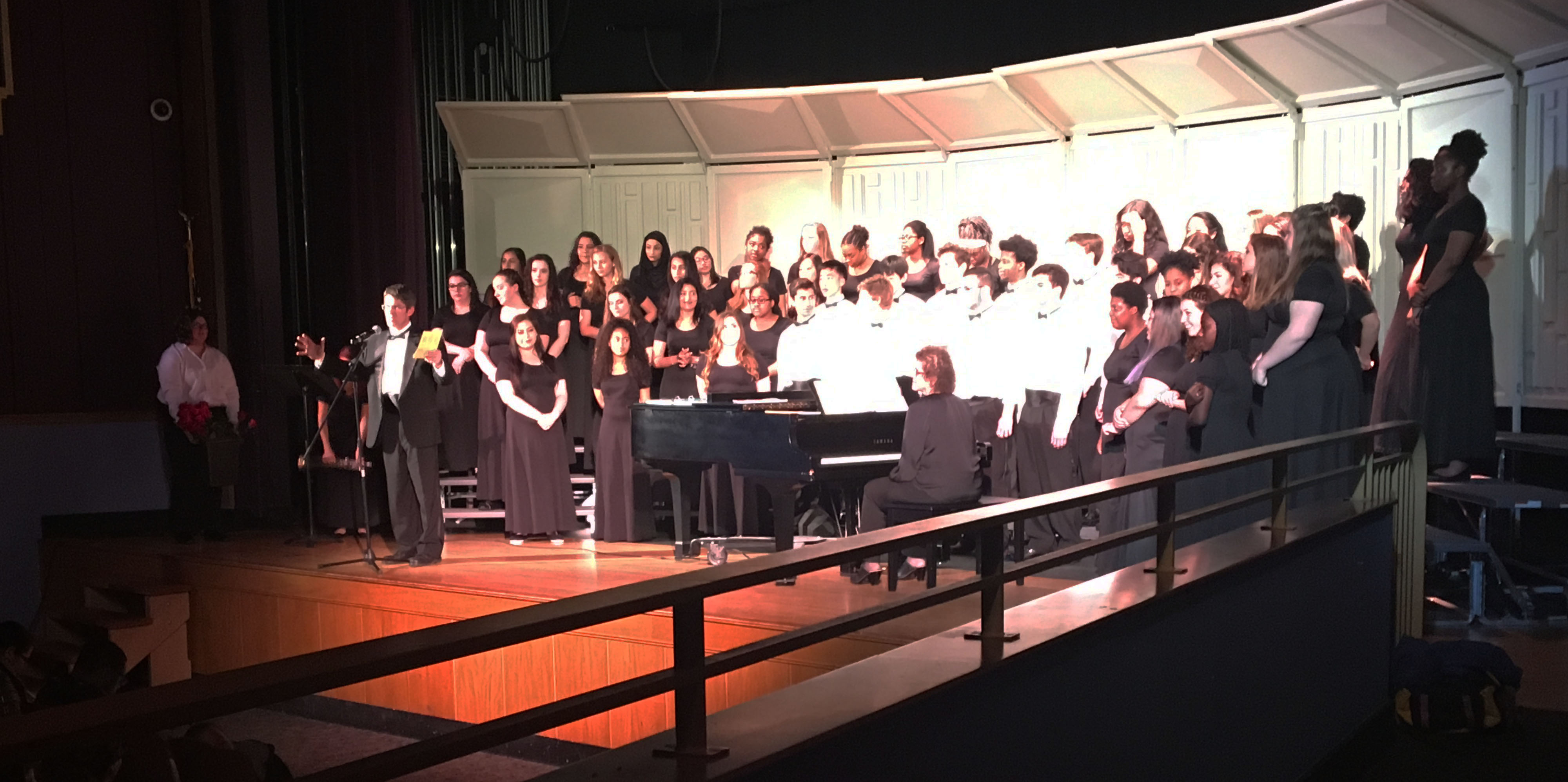 By Neden Bernadin and Man Nguyen
Malden High School Choral Art Society held their annual Spring Choral Concert on May 12th in the Jenkins Auditorium. The show ran under the direction of Todd Cole and Cindy Horsman Mckeen, who played the piano throughout the program. The show consisted of performances by the Mixed Chorus, Concert Choir and the Madrigal Singers.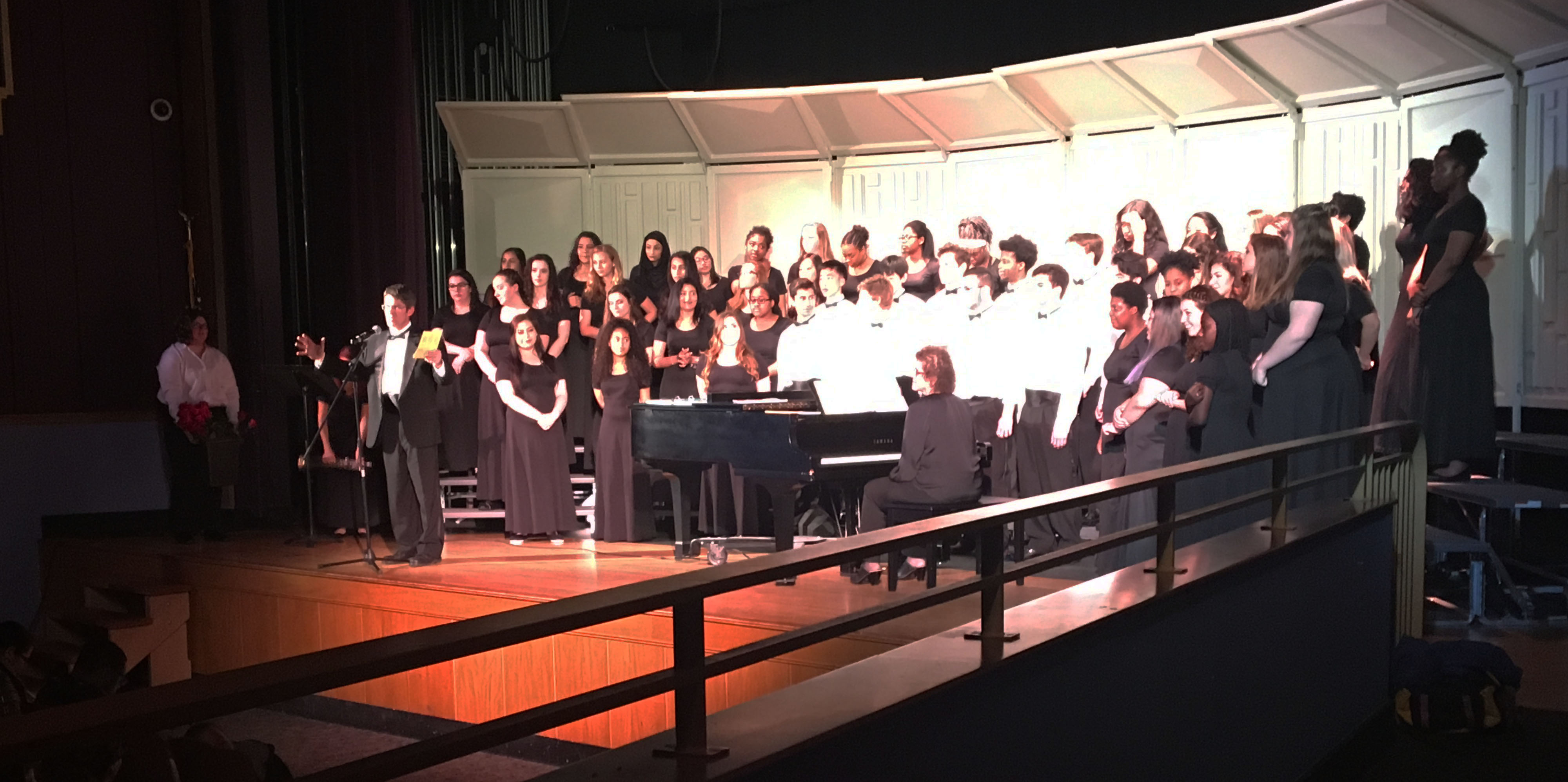 Mr.Cole started off with the show by giving recognition to Principal Lombardi as well as recognizing the students for their efforts. The Mixed Chorus group kicked off the show on a high note with an opera styled song title "How Can I Stop Singing My Song?", written by Cynthia Gray. Followed after was a piece arranged by Mark Hayes, which combined the songs "Lean on Me" with "We Shall Overcome". Proceeding after was an American Folk song by the name of "Cross The Wide Missouri" this piece featured a well done flute performance by concert band President, Naomi Brill. To end off the act, the group sang the 1980´s Michael Jackson classic "Man in the Mirror", and ended with a song from the Broadway musical Rent, "Seasons of Love." Solo performances were made by Dimitri Borrero, Birukti Tsige, Rocio Mejia, and Isabella Calderon Ordonez.
Mr.Cole introduced the Concert Choir next, they started with a touching ballad titled "He's Gone Away" arranged by Ron Nelson. Proceeding after, was a difficult classical/vocal titled "Agnus Dei" arranged by Gabriel Faure. The last two twists consist of "Cups" from the movie Pitch Perfect, and 80s medley of songs from female artists during that era.
Lastly the Madrigal singers took the stage which consisted of solo performances from Caitlyn Leonard, Nicolas Acuna, and Aundraya Martin. The group performed a variety of different songs such as "He ain´t Heavy, He´s my Brother" arranged by Jay Althouse. Then a French classical piece, "ll Est Bel Et Bon ( I Know A Young Maiden)" composed by Pierre Passereau.
The Percussion Ensemble featured Salma Bezzat, Thomas D´Onofrio and Kevin Ochoa.
Both Mixed Chorus and the Concert Choir give off impressive performances in foreign languages such as piece that the choir performed was called "Turot Eszik a cigany". In English, it translate to "See the Gypsies Munching Cheese" which was written and composed by Zoltán Kodály.
Mr.Cole wants to thank the students for accepting ownership as their responsibility ahead of the event, and cooperating as a team. He added that ¨ not only did they execute the musical pieces just as [they] prepared on them, but they worked together to pull off all of the logistics of the evening.¨
With planning this annual event, Mr.Cole realizes that anything can go wrong so he creates ¨a meticulous plan¨ in which he can receive feedback from the student leaders before dress rehearsals. With any luck, last minute changes are often necessary, and it is important be passed around among the participants.