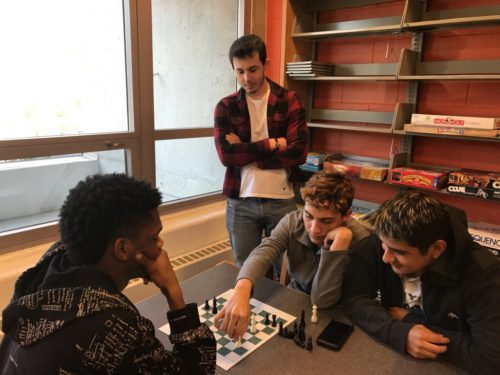 Chess, a historically highly regarded game of strategy, has found its place at Malden High School. On Tuesdays, Malden High School Chess Club meets to compete against each other and practice on bettering their skills in chess. The club includes and accepts both proficient chess players as well as people who would like to learn how to play chess. In total there are about 15 to 20 members in the club.
The idea of the club came mainly from a senior at Malden High School named Dylan Duarte. Him and friends such as Matheus Pereira came with the idea in the Malden High School Library while they were playing chess. They thought it would be a good idea to start and actual club for chess since so many people enjoyed playing it in the library. Thanks to Dylan Duarte who acted upon this idea and got the club started, chess club is now open on Tuesdays after school in the Malden High School Library.
The club is run by senior Matheus Pereira who is president of the club. The club is currently looking for a Vice President, which they will choose by having a tournament within the club. The club is open to regular chess players as well as anyone who has never even played chess before. The club offers to teach anybody who wants to learn and who is willing to put the effort into it.
There are competitions within the club but members do not have to be apart of the competitions to be a part of the club. Members can also join just to play chess recreationally as well. The club does plan on growing and competing against other schools in the future. But since the club is new and many of the members are not proficient enough in the game, they are waiting for the club to grow as well as the skill set of their members in order to actually create team that is competitive enough for other schools.

The chess club was not created for competition. The club was started mainly for recreation and for an opportunity to create a good community of people who enjoy playing chess. Any sort of competition is optional if you are a member of the club. As said by the president of the club Matheus Pereira, "Honestly, our goal is to have fun, meet great new people, and get better at chess. Simple as that". Chess club is always accepting new members to make sure all of that happens.