(Spoiler Free)
Lady Bird, directed by Greta Gerwig stars Saoirse (pronounced sir-sha) Ronan (The Lovely Bones, The Grand Budapest Hotel) as Christine "Lady Bird" McPherson, a spunky, outspoken, and tenacious high school senior from Sacramento who grudgingly attends a private Catholic school at the request of her mother. Lady Bird openly detests living in California and she describes where she lives as "the wrong side of the tracks". Throughout the film Lady Bird is struggling to get accepted into college on the east coast as opposed to attending the run-of-the-mill schools in her own backyard–the easily accessible schools that her mother wants her to attend. She builds friendships and relationships in her new Catholic school over the course of the school year, while facing the harsh realities of life and learning that other perspectives in life exist apart from her own.
In the film, Lady Bird is immediately set up as an outsider; her self-chosen name, bright pink hair and obscure values are all indicative of this. Lady Bird comes from a lower middle class upbringing and has a brother named Miguel who is the only Person of Color in their white family. Despite this, she still manages to feel like an outsider within her own familial unit due to the seemingly outlandish goals she has set for herself.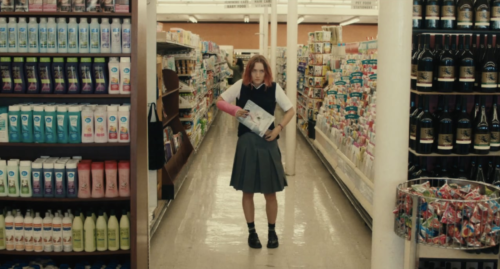 This movie can resonate with audiences for myriad reasons. It covers themes such as class, spirituality, individuality and sexuality. It portrays the often strained mother-daughter dynamic in its true form and navigates the duality of life as Lady Bird joins the workforce while her parents struggle to hold onto their own jobs. High school seniors can relate to the movie in particular due to how it profiled the college application process, which can be stressful, overwhelming, and often disappointing. Many people around Lady Bird doubted that she would able to perform well enough to be accepted into an ivy league or even out of state school. Although she does faces many inevitable rejections, she still manages to find her own inner truth.
As an aspiring filmmaker, I felt deeply attuned to the cinematography, screenwriting, and overall production and execution of Lady Bird. The scenes were shot simply and edited smartly. The dialogue was minimal yet the characters still managed to say so much. The film walked a fine line between a comedy and a drama but it would serve as an injustice to put the film in a single box of a genre. Lady Bird simply did not feel like a genre film; it felt so real and honest to the point where one forgets that they are actually consuming a piece of fiction. Rotten Tomatoes' 100% rating of the film comes at no surprise.  
In a perfect world, walking out of every movie would elicit the feelings of nostalgia, euphoria, content, and wonder that Lady Bird manages to do. Since not all films can strike this chord within their audiences, it is best that viewers experience this film while they can and while it still matters.