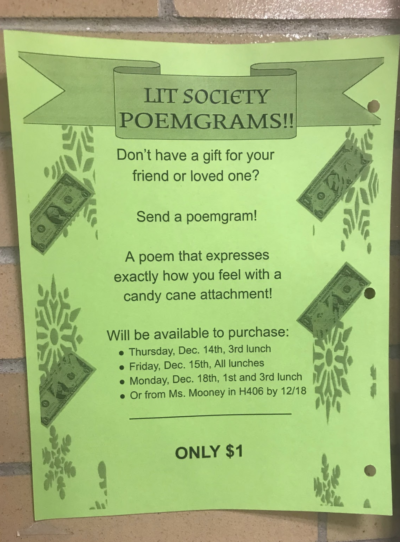 The Literary Society has been selling Poem-grams leading up to the Winter Break.
The Literary Society is a club advised by English teacher Anne Mooney that focuses on literacy based activities and ideas. Senior Alicia Tan, co-president of the Literary Society, "enjoys the creativity that it allows" and mentions that "even if you hate writing, you are still completely welcome as it is more than just a writing club".
Poem-grams are poems that can be sent to other students in the school, whether it is a friend, a person you admire, or even yourself. Along with a nicely made winter poem, the Poem-grams come with a candy cane. Poem-grams were sold for $1 each.
The Poem-gram fundraiser is being run by Tan, the Blue and Gold Editor-In-Chief Megan Downer and the Blue and Gold Web and Apps Managing Editor Christina Appignani. Tan mentioned that as they were trying to do something different but related to Literature as "so many things have been done before", they thought poems would be great, and "if it is done nicely it would make a great gift" for the Holidays.
Tan has noticed that "[there has] been pretty good sales even though it was last minute" and mentioned that the Literary Society is "planning on doing more sales for Valentines Day".
If you missed out since the sales have ended, look out for Poem-grams during Valentines Day as it would make a great gift for someone special. If you are interested in participating in creating activities like this, join the Literary Society, which meets every other Tuesday in Mooney's room.