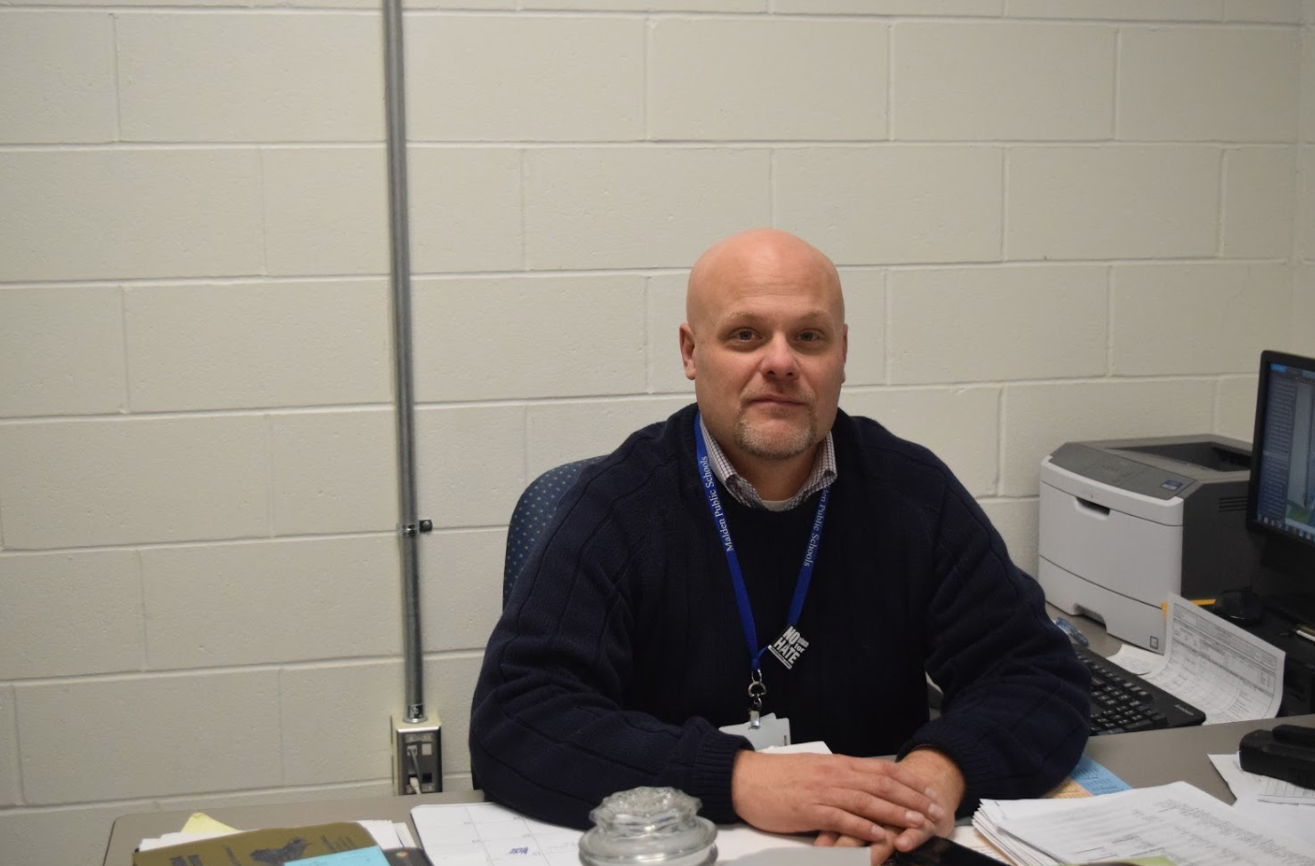 Current Boyle House Principal of Malden High School Christopher Mastrangelo will be utilizing the nine years of experience he has accrued in the aforementioned title as he transitions into the role of Interim Principal within a few short weeks. This news has sprung in light of Principal Ted Lombardi's announcement of his resignation effective in early January.
Mastrangelo's current occupation as House Principal already entails its own challenges and chaotic schedule. He elaborated that "a normal day for a House Principal here is that there is no normalcy at all". The House Principals for Boyle, Holland, Brunelli, and Jenkins each manage their own section of students within MHS. Mastrangelo specifically is involved with anything that involves "safety, security, and facilities" which includes student management, maintaining correspondence with parents, observing teachers, and working closely with the Pathways and guidance departments.
In regards to his experience thus far as MHS, Mastrangelo described that "the relationships that [he] builds with students and families are the most rewarding to [him]...seeing them accomplish things that they [did not] think they could [is] tremendously rewarding". He added "above everything [he] does, to watch the reactions of the students and families [makes] [Graduation] a really fun day".
Prior to beginning his MHS career, Mastrangelo taught physical education for 12 years in Wakefield before moving onto a Dean position in Peabody where he also coached basketball. His time as a basketball coach in Peabody familiarized him with the atmosphere within Malden. The diversity within Malden was one of the factors took into consideration while applying as House Principal at MHS as well.
When Lombardi began his job as principal, he and Lombardi "connected right away", although "Lombardi came in [at] a tough spot" in filling the position following Principal Brown's retirement from MHS in 2016. Still, Mastrangelo described Lombardi as a "very smart guy and a very nice person [who] genuinely cares about [his] students and their achievements". He went on to say Lombardi is "very positive and zen-like" and he builds "strong relationships with students and staff" which made him a "very good fit with Malden". On a more personal level, Lombardi was "very funny and [they] had a similar sense of humor". Mastrangelo described how Lombardi gives him and the remaining House Principals "full autonomy" and was "always willing to listen and learn" from them as Lombardi was new to Malden High's staff. The House Principals all consult with Lombardi about decisions regarding students, staff, and curriculum. Lombardi "was very good about bringing [them] in to be part of discussions around decisions that [were] made" said Mastrangelo.
Mastrangelo is sure that his transition from House Principal to Interim Principal "is going to be huge". He is currently tasked with managing around 500 students and around 30-40 teachers in Boyle House alone; once he becomes Interim Principal his responsibilities will only compound themselves into the job of managing over 100 teachers and close to 2000 students. He admitted though, that his responsibilities will be "coming at [him] from different ends" as he has never had "as much contact with Central Administration and interaction city-wide" as he will now.
"It is rare that somebody leaves in the middle of the school year...it's uncharted waters," explained Mastrangelo. Conversely, Mastrangelo explained that if "you look globally around the district, there are two principals that are leaving within two weeks of each other"; There is a new Interim Principal at the Early Learning Center as well as an Interim Principal at the Beebe following Dr. Vatalaro's retirement.
Mastrangelo believes that the fact that he "has been [in Malden] for nine years, [and] [that] [he] knows a lot of the teachers and [they] know [him]," will bring stability to MHS during this uncertain period. As Mastrangelo moves on to occupy the Interim Principal role, there will be a new Interim Boyle House principal, and as of now the position has been posted. Whether or not Mastrangelo will return to assuming the role of Boyle House Principal subsequent to his time as Interim Principal "remains to be seen". In regards to how he feels about filling this challenging position so suddenly, Mastrangelo said that "he thinks [he] [is] ready" and that "[there is] always some fears and concerns, but those are very similar emotions to excitement".