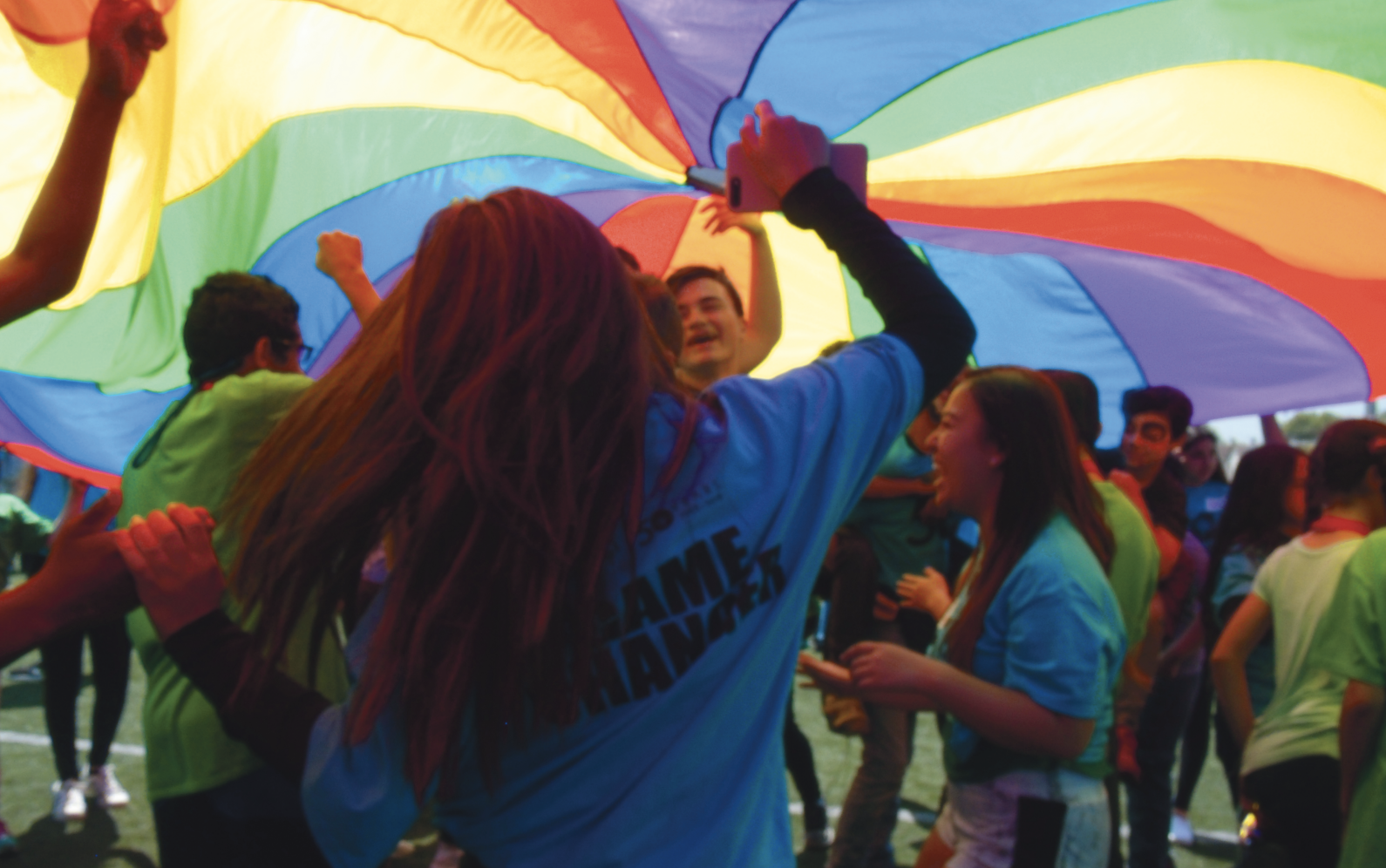 Athletes and volunteers participate in a Special Olympics activity. Photo by David Lombardi. 
Sixteen years ago Malden started to partner with Special Olympics, by utilizing sports to help people with physical and mental disabilities find joy and confidence.
Former Principal Dana Brown helped bring this event to Malden. MHS secretary Mrs. Barbara Scibelli has taken over by running this program for about thirteen years now. When initially asked to be interviewed, she replied by saying "[she loves] Special Olympics...the day is special on so many levels."
The day is set up like a carnival for the kids. There are areas for kids to race, long jump, throw tennis balls, and an awards area. If the kids are hot hungry or just want to do something else there is a tent set up for them to go and cool off, eat or even get their faces painted. Most kids end up in Dance Town, which is an area where the kids are able to dance as much as they want and just enjoy themselves.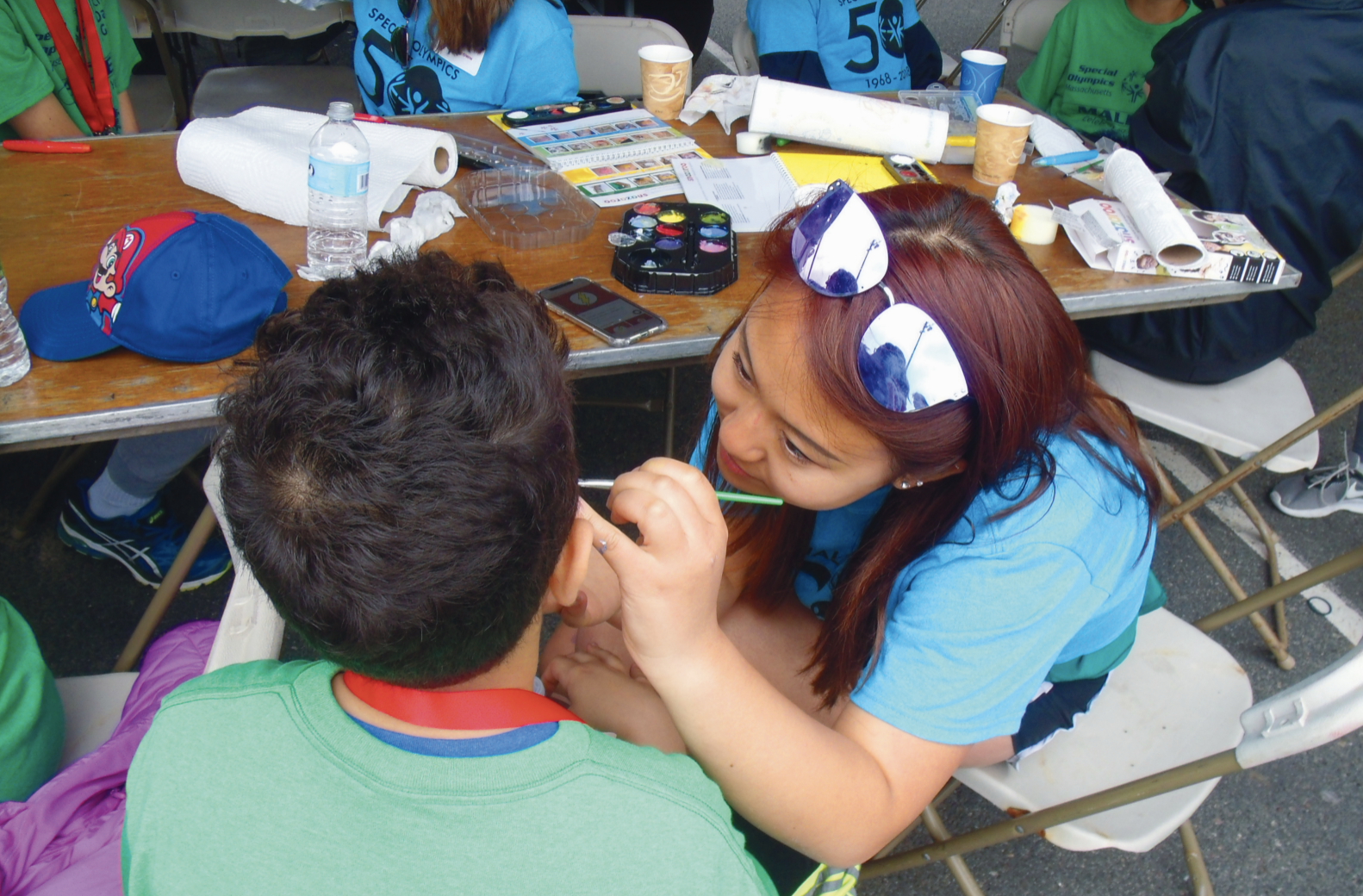 When asked what happens at the Special Olympics, Scibelli simply described it as "Magic." Senior and Class of 2018's President Manny Quesada Nylen, who has participated at the Special Olympics for three years now stated "When the kids show up, the high school volunteers line up on either side of the field entrance so that the kids can run through and high-five everyone like they're professional sports players." He went on to say that as all the student athletes gather into their schools, they walk the track as everyone cheers. First year volunteer Freshman Daniel Gilligan explained "At special olympics we all gather and have different events for each student that they will be able to run their hardest or throw their farthest to show their talents in different sports." Senior Bia Kerr has been a volunteer for her third year now described "The Olympics is a day for [the] [athletes] to have fun and make connections with the other athletes around them and to just enjoy themselves and be kids."
Junior Agatha Silva has volunteered at the Special Olympics all three years she has been at the high school. When asked why she decided to volunteer in the first place she simply said "[she] decided to do special olympics because [her] main goal is to have everyone feel equal especially those that may not always be treated like such..." Junior Matt Farias who has volunteered the past 2 years decided to because "Of Mrs. Scibelli and her commitment to Captains Council. Since [his] freshman year, [he] couldn't help but admire and praise the amount of work she puts into the school to give kids equal opportunities. [He] wanted to do the same and give back to her, and the best way to do that is to go to the events she organizes and be a part of a greater cause to make the city [he] [lives] in a better place". First year volunteer Freshman Max Forestier decided to volunteer because "[He] heard how much fun it was and how big of an opportunity it was to improve [himself] as a person...[he] also wanted to because [he] helps out in Unified Sports and has formed bonds with many of the kids [and] [he] wanted to support them on their big day."
Second year volunteer junior Nour Tafroui believes the importance of this event is to "Show respect and care for the kids while also trying to get them to have a great time."
Mrs. Scibelli stated that the importance of the event is "Community involvement, awareness of all of our different abilities and not only accepting this but also living it." She also believes it helps give them a safe space to compete where they are supported, and treated with dignity and respect.
Gilligan believes "it's so huge [he] can't list them all. Seeing the smiles on these kids faces is something and not many have experienced before….it also brings you closer [to]... someone you don't talk to...and you can make a new friend in someone you may have not you thought would connect with."
Farias also said "It is crucial to show that as a community we are together. [They] make the kids feel like they have the spotlight with everyone applauding their efforts, creating an atmosphere that should be reciprocated to everyone in our city." He went on to explain that this event is influential to these kids with special needs because now they can grow knowing that their community has their back.
Silva also concluded "Malden is a very diverse town, so [they] celebrate different cultures all the time, but [she] think this event is important to our community because [they] should celebrate the differences in abilities as well. The Special Olympics is a way for kids with certain handicaps to be compete and have among 400 other athletes and about 200 volunteers who are just there to get the athletes to have even more fun.