Members from Black Culture Club having a discussion. Photo by Ailin Toro. 
Black Culture Club gives students a platform to talk about social issues affecting the black community. At the beginning of every meeting, Cedrina Moussami, president of Black Culture Club and fellow Blue and Gold member, tells the club the topic that will be discussed that day. The actual meetings, which are every Thursday, work like a discussion, with everyone being free to speak. Some of the topics that have been discussed this year are the use of racial slurs, texturism, and colorism.
Moussami talked about how the club's goals are to "advance intellectual dialogue and generate a positive impact on the black community as a whole." She added that in addition to improving communication they "hope to promote self -love and pride" and "increase awareness on several issues in the community, educate the youth in leadership, and develop the grit to take action to build a great future and ensure justice for black people."
Moussami has taken her role as president seriously. While Black Culture Club did exist last year, she wanted to revamp it. Over the summer she talked to people at malden reads, made connections, and organized what the format of what the club would look like.
Senior Nathaniel Tortorella Silva, a member of Black Culture Club, says that he enjoys being a part of this community because "it gives people a platform to talk about and exchange ideas about important social issues as they affect many people." Another member of the club, Senior Paul-Curtis Ngoyon, adds to this  saying that it is "important to have discussions among people about the state of our culture and the future of our culture." Senior Sheila Ally adds that she likes being "part of a place where people can discuss these issues in a larger group setting."
When asked why he joined the club Silva said that "[him] and [his] friends wanted to have other people to talk to about these issues since these are discussions [they] would already have." Both Ally and Ngoyon talked about how they wanted to be part of a club where they would be represented.
This club is seen as important and necessary by many of its members. Silva speaks to this saying that "it gives people a platform to talk about and exchange ideas about important social issues as they affect many people." Ally adds that it is good to "discuss issues happening within the Malden black community and the black community overall." Moussami also mentions that "a lot of people resort to post on social media but do not do really anything about it" and that she hopes this club "actually inspires people to make an impact in the community."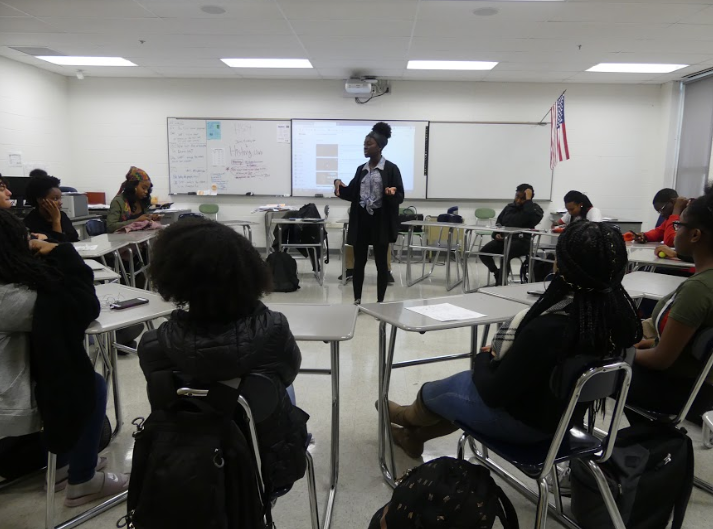 Moussami is happy with how the club has been running, mentioning that they have an average of 25 people showing up to every meeting. She also thinks the club is turning into a little community, with the members becoming friendly even out of the club. She also adds that the way the discussions have gone is great, "especially when people disagree on a topic, because they leave having learned something."
Looking into the future Black Culture Club is planning to run fundraisers, and toy and clothes drives. They are currently looking for places where they would ship what they collect out to. They are also researching different organizations willing to sponsor them. In the upcoming weeks they are planning to host a fundraiser where they will be selling ice cream, and they are also gonna partner up with social activism club to go see the movie The Hate U Give. They also hope to set up an event showcasing black culture in a positive light within the next couple months.